Case Study
Using simulation with a comprehensive digital twin cuts design and commission time by 50 percent
Cleveland Systems Engineering
Formed in 1995 as systems integrator specializing in turnkey robotic systems and software for the manufacturing process industry, Cleveland Systems Engineering now provides turnkey solutions for factory automation in a range of industries.
https://www.cleveland-systems.com
Headquarters:

Darlington, United Kingdom

Products:

Mechatronics Concept Designer

Industry Sector:

Industrial machinery
The power to remove customer risk
One of the key issues for any manufacturer planning to invest in factory automation is to ensure that new equipment will do exactly what it is required to do. That is also the primary focus of Cleveland Systems Engineering, which specializes in systems integration and software control and has been serving the discrete manufacturing and process industries since 1995.
"We often hear of companies who have invested in new equipment that doesn't meet their requirements," says Tam Ashcroft, managing director, who is acutely aware of his customers' concerns. "This causes budget overruns and production delays."
As a Siemens Digital Industries Software solution partner, Cleveland Systems Engineering has access to extensive guidance on the latest technological developments and opportunities. Because of this relationship and the vision that Siemens proposed, Ashcroft and his team began to consider incorporating digital products and tools that would enable them to exploit the strength of simulation within factory automation and process control.
As Ashcroft explains, "We have always relied on our own knowledge and experience to minimize risk for our customers, but after talking with our contacts at Siemens we recognized that full digital capability, particularly around virtual commissioning, would be an additional advantage. We therefore decided to extend our expertise by investing in our own suite of software tools."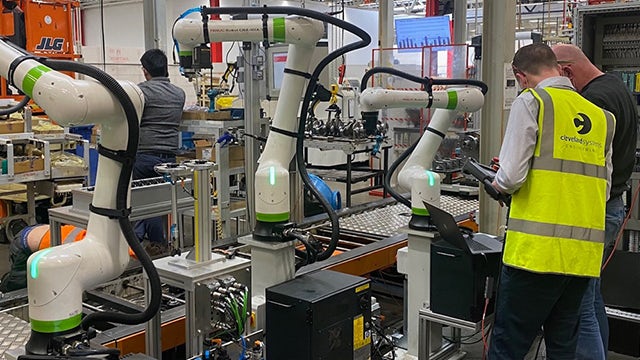 Proving shop floor performance
The company implemented NX™ software, Mechatronics Concept Design™ software, the SIMIT simulation platform and PLCSIM Advanced, which are part of the Siemens Xcelerator business platform of software, hardware and services. Siemens also provided assistance and training.
"We acquired a huge amount of new capability in one leap," says Chris Hewitt, technical director at Cleveland Systems Engineering. "Now we can create a physical machine in 3D CAD using NX, build a simulation of the electronics model in Mechatronics Concept Designer and incorporate a digital model of the controller we specify with PLCSIM Advanced. With a full digital representation of the machine, we then use the SIMIT platform to link our digital model to a virtual PLC and conduct virtual commissioning."
The first project the company fulfilled with its new capability was for a new assembly machine for robotic lawnmowers. The project was to design and deliver an automated station within an existing assembly line. This comprised a three-axis gantry positioned above the conveyor with an automated screwdriver that could run down screws for a number of the customer's product types.
Hewitt explains: "This was a modular station installed within a manual assembly line we had manufactured a year earlier. The station was controlled by an S7-1500F PLC, which was connected via Profinet to V90 drives to automatically insert and run down screws to assemble the main product chassis. The software that we previously used to design this type of installation allowed us to check the movement, reach and payload of a robotic arm, but did not go into the detail of its operation. We were very keen to confirm linear slide sizing and the precise sequencing because different products were due to move through this assembly station."
Peter Dawson, mechanical design engineer, designed the mechanics of the system, including drives, belts and slides."
I used NX for the basic functioning of the system and the sophistication of Mechatronics Concept Designer to accurately check the electronic motion and avoid clashes," says Dawson. "I found both easy to learn. The interfaces are simple and it's clear how to find everything."
He passed the computer-aided design (CAD) file to Hewitt who defined the physics with Mechatronics Concept Designer, which presents slide and sensor options. Having created the electronics model, Hewitt simulated the three-axis movement in and out of position, then used the virtual PLC located on the digital machine to apply a signal to each sensor and validate the automation code."
I was surprised and pleased at how well PLCSIM Advanced and SIMIT work together," notes Hewitt.
Cleveland Systems Engineering was supported by Siemens Partner Parmley Graham, which supplied the drives and controllers. "We have a long-standing relationship with the engineers at Cleveland Systems," comments Ian Connor, robotic sales specialist at Parmley Graham. "On this project we worked together at the digital twin stage in order to confirm the hardware specification."
Predictability and time savings
Before machine build began in the Cleveland Systems Engineering on-site workshop, the company had already tested and optimized the kinematic components of the three-axis gantry system and proved the control strategy. The ability to identify mechanical errors prior to build provided the end customer with confidence the final design would perform exactly as expected. In addition, operator training was provided to factory personnel using SIMIT."
Having reassurance about the outcome made a massive difference, particularly because the new products did not physically exist when we were developing the production line and there were several potential product variants to consider," says Hewitt.
There was also a significant time saving. "Some of the components we use are on long lead times and when they arrive, we need to assemble them in a hurry and that leaves less time to go through the commissioning process to ensure that everything works," Hewitt continues. "But we can now conduct simulation whilst the machine is being built. Our first fully digital project ran for about 15 weeks and the time saving was excellent. We saved 50 percent on allocated design time because we reduced the need for rework and gained early indication of accuracy. We also reduced commissioning time by 50 percent because it took only one week instead of two."
Attracting new business
"As a result of the original project we won a second commission from the customer to develop another three-axis machine for a different assembly process, this time with a horizontal screwdriver axis," reports Hewitt. "We were also asked by a major blue-chip engine manufacturer to design and build a robot cell to assemble components onto their engines. We were able to create and share a simulation showing the pallet in motion, the rotation of the engine into position and the robot running through its sequences."
Cleveland Systems Engineering also uses its new capability as a sales tool. "We now have clear differentiation in the market-place," remarks Hewitt. "We showcase our ability to significantly reduce risk for our customers by offering a comprehensive digital twin in bids." One customer was so impressed with the power of digitalization across its supply chain it now specifies that a digital twin is a requirement on future automation projects."
As a company we are always looking to move forward and with these new Siemens software tools we have achieved that with great success," concludes Ashcroft. "By creating a comprehensive digital twin, we can completely simulate and test a piece of machinery before it is even built. That capability is going to become more and more important in the coming years."