Case Study
Providing students with hands-on experience to drive digital transformation in education and industry
Chungbuk National University's School of Mechanical Engineering uses Simcenter Amesim to develop solutions for future transportation challenges
Chungbuk National University's School of Mechanical Engineering
Chungbuk National University's School of Mechanical Engineering provides students with fundamental engineering education and develops educational programs to prepare
students for the workforce and digital transformation in industrial sectors.
https://www.chungbuk.ac.kr/site/english/main.do
Headquarters:

Cheongju, South Korea

Products:

Simcenter Products, Simcenter Amesim
Educating students about digital transformation
In response to the global COVID-19 pandemic, our daily lives have experienced significant changes, marked by a rapid increase in digital device usage. The pandemic has particularly impacted the education sector, making on-site education and job-related training for students nearly impossible. In contrast, the industrial field has seen a surge in digital transformation and innovation during this period.
With these changes, there is a growing demand for professionals with extensive design and digital skills. Consequently, universities must adapt their educational approaches to meet the evolving needs of the industry.
Chungbuk National University (CBNU) School of Mechanical Engineering has embraced this challenge, integrating Siemens Digital Industries Software solutions, such as Simcenter™ Amesim™ software, into its curriculum for on-site job and design education. Undergraduate and graduate students are using Simcenter Amesim to bridge the gap between university education and the industrial field. Simcenter Amesim is part of the Siemens Xcelerator business platform of software, hardware and services.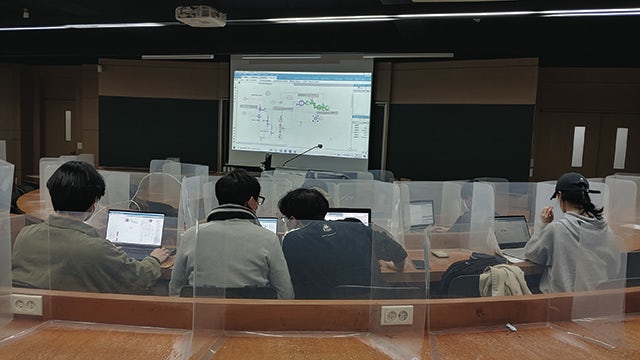 Students using Simcenter Amesim in class.
Using Simcenter Amesim to drive digital transformation in on-site education
Chungbuk National University's School of Mechanical Engineering has established a system that enables students to use Simcenter Amesim for remote and in-person education. Students can use Simcenter Amesim in various research and educational activities across multiple laboratories, positioning them as design experts at the forefront of industries such as materials science, aerospace and automotive.
In 2021, Seok-Ho Rhi, a professor at the university, recognized the importance of providing students with the professional tools needed while considering effective methods for students' job training during the pandemic. With the support of Siemens' Academic Partner Program, Chungbuk National University's School of Mechanical Engineering has used Simcenter Amesim to provide education for several years. Many of the university's undergraduate and graduate courses have used Simcenter Amesim in classes such as green energy systems, internal combustion engines, energy and environmental air conditioning, thermal system design and heat exchanger design.
As a result, over 40 students have obtained certification as Simcenter Amesim experts. Each semester, a specialized education program trains more than 20 professional designers. From September to December of 2022, the university conducted a one-semester education program called Simcenter Amesim and CAE Application Training. This program used Simcenter Amesim to provide students with design education and engage them in design tasks required in the industrial field, allowing them to actively respond to real-life design scenarios.
Through this process, over 20 students received Siemens' education certificates by passing the exam. During an event at the university called Student Project Day, students demonstrated their ability to apply Simcenter Amesim in various fields. More than 20 participating students showcased the versatility of using Simcenter Amesim design across different sectors. Some of the representative projects included the design of a 4680 electric vehicle (EV) battery, seasonal building load design, efficiency improvement design for internal combustion engines, wind power generation design and firefighting drone design.
Now, graduate students have completed Simcenter Amesim application training and are using Simcenter Amesim to explore various design methods in their research fields. Below are some examples of students using Simcenter Amesim across different domains.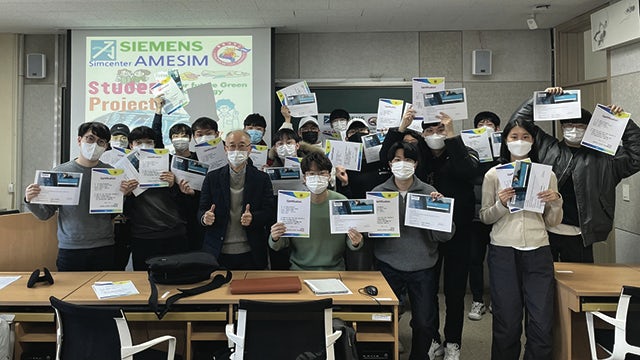 Students showcasing their skills at Student Project Day.
Designing technology for electric vehicle battery cooling
Professor Rhi's research team at Chungbuk National University's School of Mechanical Engineering is leveraging Simcenter Amesim in undergraduate and graduate design education to create cooling methods for heat pipe cooling systems. Using Simcenter Amesim and its features, such as one-dimensional design technology, enables the team to quickly and optimally design cooling systems.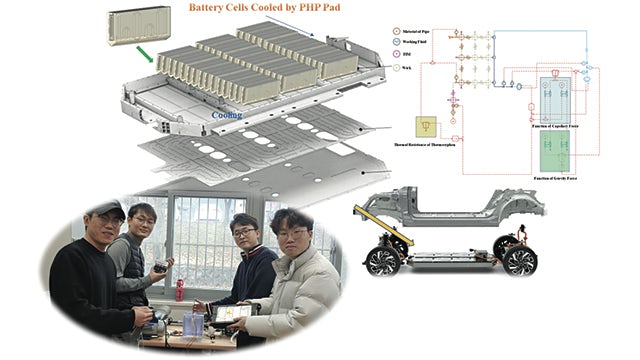 Electric vehicle's battery thermal management lab's achievements.
Maximizing efficiency for autonomous electric vehicles
Graduate students in professor Jong-Ho Shin's lab at Chungbuk National University have been using Simcenter Amesim to enhance autonomous EVs in their digital design projects. Their research focuses on optimizing battery operation, thermal management and energy consumption, which are critical factors in improving the performance and driving range of these next-generation vehicles.
By using Simcenter Amesim and its advanced simulation capabilities, the students can model and analyze various subsystems within the autonomous electric vehicle, such as battery thermal management systems, powertrain components and energy management strategies. This holistic approach allows them to identify potential areas of improvement and implement design changes that lead to better overall performance.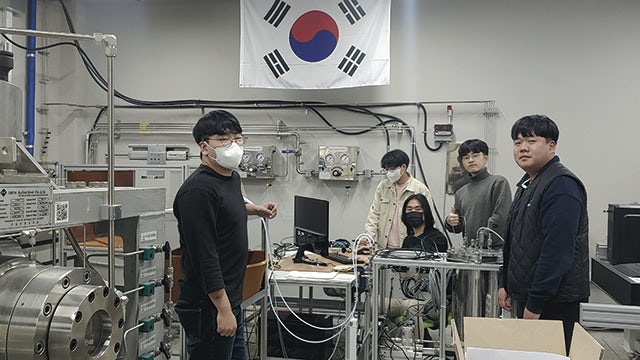 Student in the Advanced Propulsion Lab using Simcenter Amesim.
Pioneering South Korea's future in space exploration
The researchers in professor Kyu-Bok Ahn's Advanced Propulsion Research Lab at Chungbuk National University are driving innovation in rocket propulsion systems. Using the powerful capabilities of Simcenter Amesim, they are designing cutting-edge rocket propulsion systems that will play a crucial role in South Korea's future rocket launches and space exploration missions.
By leveraging Simcenter Amesim and its advanced simulation tools, researchers can model, analyze and optimize various aspects of rocket propulsion systems, such as thrust performance, fuel efficiency and structural integrity. In addition to propulsion system design, the researchers are exploring the impact of different fuel types, advanced materials and next-generation technologies for rocket performance. These investigations are essential in understanding the best combination of materials and technologies that can propel South Korea's space program to new heights.
Collaborating with industry partners, government agencies and other research institutions, the researchers in the Advanced Propulsion Research Lab are contributing to the development of South Korea's domestic rocket capabilities and fostering a sense of national pride in their nation's space exploration efforts.
Their work has broader implications, as it helps expand the global knowledge base in rocket science and contributes to the ongoing advancement of space exploration technologies worldwide. Researchers at Chungbuk National University's Advanced Propulsion Research Lab are using Simcenter Amesim to pave the way for a new era of space exploration for South Korea and beyond.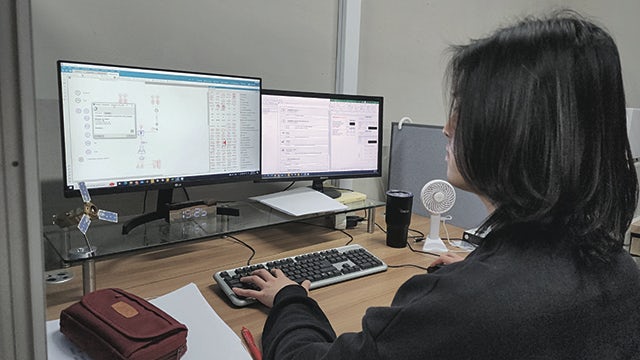 Fuel cell research members in the lab.
Pioneering fuel cell technology for a sustainable future
Graduate students in professor KiBum Kim's lab at Chungbuk National University are leveraging Simcenter Amesim to design and optimize fuel cells for a more sustainable a future. Students are using Simcenter Amesim features to address real-world challenges in fuel cell design and integration.
Using Simcenter Amesim and its advanced simulation tools, the students can analyze various aspects of fuel cell performance, such as efficiency, durability and power output. They are also investigating the sensitivity of fuel cells to different factors, including temperature, pressure and operating conditions. This comprehensive analysis allows them to pinpoint potential areas for improvement, optimize fuel cell performance and enhance the applicability of fuel cells in future vehicles.
Beyond their core focus on fuel cell design, the graduate students are exploring innovative solutions for integrating fuel cells into various transportation applications, including electric vehicles, trucks and aerospace systems. They are also studying the role of hydrogen infrastructure – encom-passing hydrogen production, storage and distribution to support a sustainable and efficient hydrogen-based society.
Collaborating with industry stakeholders, policymakers and fellow researchers, the students in professor KiBum Kim's lab are contributing to the global push for a clean energy future. Their work on fuel cell technology and hydrogen infrastructure will play a crucial role in reducing greenhouse gas emissions, improving energy security and fostering sustainable development.
By applying their knowledge of Simcenter Amesim, graduate students at Chungbuk National University's Green Energy System Lab are shaping the future of hydrogen-based energy systems and forging a path toward a more sustainable, efficient and environmentally friendly transportation sector.
Chungbuk National University is recognized as an institution that trains future automotive professionals through programs like the National Digital Innovation Sharing University for Future Automotive Talent Development and the Chungbuk Human Resource for Cultivating Innovative Talent on Future Cars in the Brain Korea (BK) Graduate School. Using Simcenter Amesim Academic Bundle License supports specialized design education to train future automotive professionals for the Siemens Academic Partner Program. This program is playing an essential role in improving design capabilities for job and research activities required for digital transformation in the industry.
Furthermore, Chungcheongbuk-do, where Chungbuk National University is located, is actively supporting industry and talent development to effectively respond to the automotive industry's transition towards next-generation vehicles. In response, Chungbuk National University's School of Mechanical Engineering has established a future automotive cooperative program and is striving to become a more specialized educational institution for next-generation automotive talent development.
Chungbuk National University's School of Mechanical Engineering is located in the heart of South Korea, surrounded by large-scale, future-oriented companies such as SK Hynix and LG Energy Solution. The school leads education in the fields of future vehicles and semiconductors, particularly after the pandemic in South Korea. The university is undergoing a major transformation to create innovative educational environments and adapt to the rapidly changing digital transformation in the industrial field.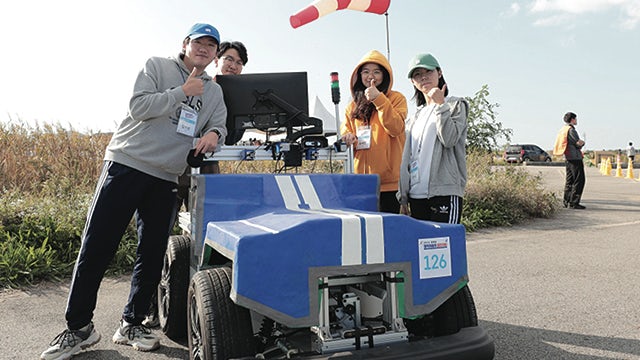 Autonomous vehicle competition.