Case Study
Engineering company supplies steel rolling equipment for efficient high-quality plate production in record time
Buma uses Solid Edge to develop large mechatronic systems for the steel industry
Buma Engineering & Anlagenbau
Buma Engineering & Anlagenbau GmbH is an international engineering company, developing innovative technical solutions for the steel industry and specializing in rolling mill equipment for both hot and cold rolling as well as machinery for long rolling mills.
http://www.buma.at
Headquarters:

Linz, Austria

Products:

Solid Edge

Industry Sector:

Industrial machinery
Long-term investment in steel plate production
Production equipment for the iron and steel industry is expected to last and be productive for several decades. Based in Linz, Austria, voestalpine Grobblech GmbH is a leading supplier of thermomechanically rolled heavy steel plates, used in buildings, bridges, trucks, ships, liquid tanks, oil rigs and pipelines. What their customers seek is an appropriate combination of thickness, strength, toughness and weldability. After more than 57 years in operation and 25 million tons of rolled heavy plates, the old rolling mill had served its purpose. When cracks in the rolling stand column prevented it from sufficiently cushioning reversing stresses, it was time for a new beginning.
Management decided not only to replace the damaged parts but to invest in the long-term future by replacing the entire installation. Defining the properties of the new mill, the steelmaking experts took the opportunity to greatly improve its performance parameters. The mill now features efficient work roll shifting for high-precision gap adjustment and strong work roll bending. Combined with an exceptionally rigid stand, this results in significantly improved thickness accuracy and flatness of the plates. The plant's rolling force increased from 5,600 to 8,000 tons, and a unique new drive train allows for very high rolling torques to utilize large reductions per pass. This in turn reduces the number of passes required for the entire rolling process, consequently lowering the cost of the sheets while at the same time improving quality. The rolling mill ensures optimum deformation, the finest microstructure and the best material properties. This investment will guarantee high productivity and availability for decades to come, carrying cost-effective steel plate production into a long, prosperous future.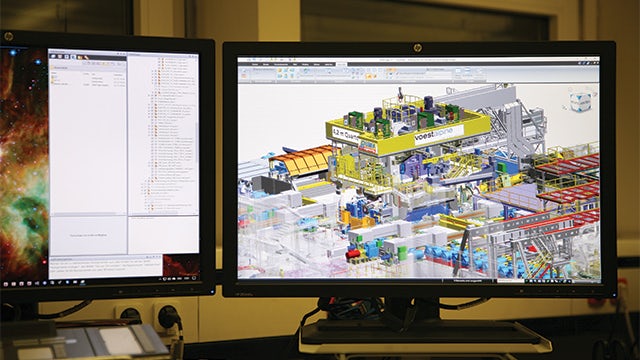 Due to the intuitive user interface of Solid Edge, Buma engineers require little training to utilize the innovations frequently enriching the software. The whole plate mill area including furnaces, primary descaler plate mill and so on is an assembly containing more than 800,000 parts.
Custom industrial machinery and plants
Buma Engineering & Anlagenbau GmbH (Buma) supplied all the planning and design work for the new four-high or "quarto" steel rolling mill. The international engineering company, also based in Linz, has a strong focus on heavy machinery for the iron and steel industry. It supplies innovative technical solutions in the form of new machinery and plant designs as well as retrofitting and modernization of existing plants. "We do not create products that are reproduced over and over again – we create full-custom, one-off industrial machinery and plants," says Franz Aumayer, project manager at Buma. "Our role starts at the early concept stages, involves all design and verification tasks including all kinds of simulations and goes all the way to supervising manufacturing and installation."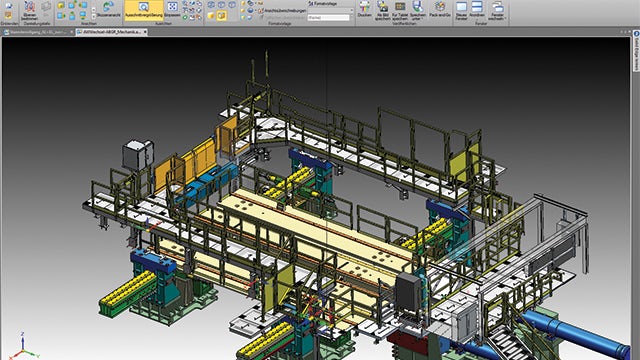 History-based work helps Buma engineers track each and every aspect of the design even decades after the designers completed their task.
One software solution for all development work
With more than 800,000 individual parts, it is the largest project Buma has ever implemented since the company was established in 1995. A project this size involves the entire Buma team ‒ 35 experts contributing work in all engineering disciplines. "As all our machinery and plants are full custom designs, there is not a lot of standardization; we usually start from scratch," Aumayer explains. "We have been using Solid Edge software from product lifecycle management specialist (PLM) Siemens Digital Industries Software for design work since 1999. The only exception is pipework design, for which we are using a third-party Solid Edge add-on software tool."
In their work, Buma engineers are required to employ a fine level of detail for all parts or assemblies involving every screw, nut and washer. "Solid Edge offers a lot of advantages over bigger and often more expensive computer-aided design (CAD) software products," says Aumayer. "Most significantly, use of the software is fully intuitive, including frequently added innovations that are seamlessly integrated with the software's supportive user interface so that it is pretty obvious how to use them." The software's ease of use means that new colleagues require minimal training. Three days is Aumayer's estimate for the average training duration. "Moreover, Solid Edge is used for instruction in many schools, colleges and universities, so young people coming from these institutions have usually already gathered experience with the software there," he adds.
Buma engineers use many of the software's powerful features, including synchronous technology. However, the software's history-based mode is especially important to their work. "Our one-off parts and assemblies are usually very complex and have properties far beyond just their geometry," says Aumayer, who is in charge of all software within the company except for the operating systems. "As our designs are extremely long-lived, we need to be able to track each and every aspect of the design even decades after the designers completed their task, and working in history-based mode supports this."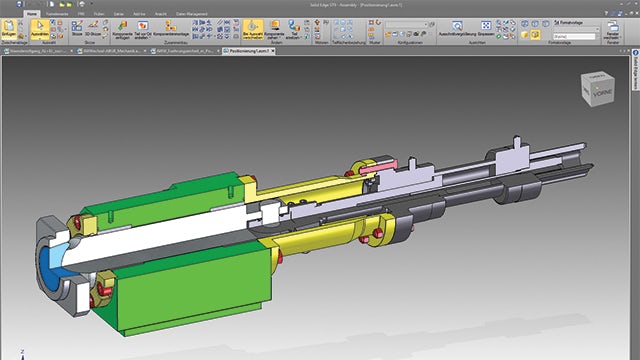 Buma engineers maintain a high level of detail throughout their designs.
Reliable support
Siemens Digital Industries Software partner Ing. Wolfgang Hackl CAD/CAM (Hackl) has been supporting Buma for many years. "Our issues often go far beyond the norm, and we can rely on Hackl to provide competent support with extremely short reaction times," Aumayer confirms. "For example, when 3D data from an exotic source could not be imported, they started working out a solution with Siemens Digital Industries Software the very same day, so our delay was minimal."
Buma is also using Solid Edge macros that Hackl provided, and depends on this reliable partner for consulting services, especially for finding the right efficient solution path for new and complex challenges.
The quality of the documentation generated by using Solid Edge creates a digital twin of the four-high steel rolling mill shown in its installation. This new core unit in heavy-plate manufacturing was put into operation in record-breaking time during only four weeks of scheduled downtime by a voestalpine Grobblech installation team.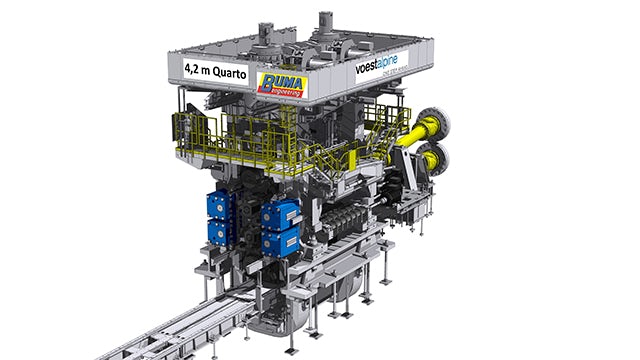 Buma engineers used Solid Edge for 3D modeling of all structural and sheet metal parts, creating a digital twin of the complex plant.