Case Study
Leveraging an open, web-based, easy-to-use solution to standardize process planning across plants
BSH Home Appliances uses Teamcenter Easy Plan to achieve double digit percentage improvement in planning efficiency
BSH Home Appliances
BSH Home Appliances is a global leader in their industry. The company's portfolio includes well-known appliance brands like Bosch, Siemens, Gaggenau and Neff as well as the ecosystem Home Connect and service brands like Kitchen Stories. BSH is represented in some 50 countries and is a Bosch Group company.
https://www.bsh-group.com/
Headquarters:

Munich, Germany

Products:

Teamcenter, Teamcenter Easy Plan, Tecnomatix

Industry Sector:

Consumer products & retail
Constantly adapting
BSH Home Appliances (BSH) is one of the largest manufacturers of its kind in the world and is number one in Europe. BSH manufactures refrigerators, washing machines, dishwashers, induction cooktops, cordless vacuum cleaners, espresso machines and much more for well-known and respected brands like Bosch, Siemens, NEFF and Gaggenau. The company also offers a variety of innovative digital services, such as the Home Connect ecosystem to help consumers get the most out of their smart home appliances. With 62,000 employees and 40 plants world-wide, BSH manages a large portfolio with hundreds of product variants on a global scale. Production can vary from plants that make only washing machines to plants like in Giengen, Germany, which makes only built-in refrigerators and freezers. Other BSH sites focus on small innovative appliances like espresso machines and cordless vacuum cleaners. In most cases, each of the 40 BSH sites manufacture product variants for more than one brand.
"Imagine a production line with over several hundred products," says Philipp Winter, an information technology (IT) business consultant in the Global Digital Services Department of the BSH Digital Factory. "Our production lines have to adapt constantly, as well as the line operators and planners."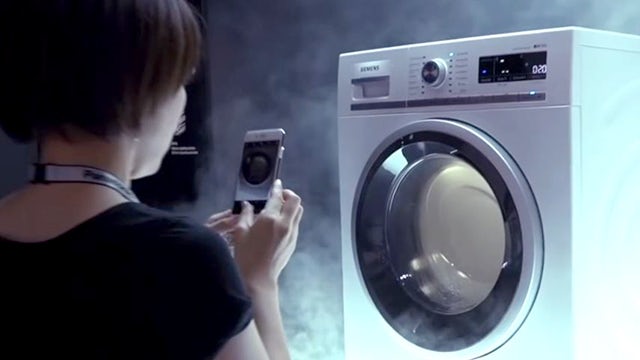 Massive variations
Consider 25 Siemens built-in refrigerator models followed by 25 Bosch models with different tray designs and different models for other brands – all on the same line. Or maybe a robotic line that makes slightly different smart washing machine models for every type of consumer in the portfolio. It is hard to imagine how one starts to organize such a complex production process on a global scale.
BSH uses Teamcenter® software to run its entire product development database. In 2015, BSH extended this to all manufacturing and planning data, integrating Teamcenter and the Tecnomatix® suite of solutions, which are part of Siemens Xcelerator business platform of software, hardware and services, into its digital factory ecosystem. Currently, local industrial engineers and planners have access to tools for Teamcenter Easy Plan, Tecnomatix Process Simulate, and NX Line Designer. These tools allow BSH to organize and optimize production lines for maximum performance for globally distributed plants, complex product variation schemes, line balancing, productivity and production efficiency, human health and safety issues, robotics and even collaborative robots (cobotics). They have also enabled BHS industrial engineers to shorten their ramp up time by 33 percent.
"You reach a limit at some point where you need special software to face and challenge this complexity in manufacturing," says Winter. "We have leveraged digital manufacturing solutions from the Siemens Xcelerator business platform for many years. This has resulted in an accurate digital twin of our factory ecosystem. Now we have added Easy Plan, which is our latest planning software, to do our line balancing and all our time management on the production lines."
Innovative, intuitive, easy
Teamcenter Easy Plan features an award-winning user experience (UX) for complex process planning. It is an open, web-based software solution that as its name suggests, is designed to be easy to use. Production supervisors, line planners and operators across global BSH plants can access critical data in Teamcenter via a task-based interface from a mobile device, tablet or on a touchscreen on the production line. With a click of a button, users can easily change between tasks from high-level planning to line balancing and work-instruction authoring.
Addressing customization
Not only can BSH line planners and line operators pinpoint the Teamcenter information they need in an easily accessible format, Easy Plan can be configured to address custom-use cases.
"When we decided to move to Teamcenter Easy Plan in 2017, we not only formed a strategic partnership with Siemens, but also with the MTM Association for the time management aspect," explains Winter. "Thanks to the TiCon integration, Easy Plan takes our plant planning one step further. Easy Plan is the right tool for our planners and operators and their specific use cases. They can optimize the process and get a better product in the end."
By using Easy Plan, BSH achieved double digit percentage improvement in planning efficiency.
Clearly, another plus point for BSH when it comes to time management on the production floor is the TiCon integration in Teamcenter. Based on MTM industry standards, TiCon is a critical process tool for industrial engineers and planners who need to calculate how much time it takes a person to responsibly complete a certain type of task on a production line. TiCon follows specific methods-time-measurement-based standards, the global standard for work measurement.
Meanwhile on the line
Sacha Weckend is an industrial engineer responsible for the Easy Plan implementation at the Giengen, Germany plant. He oversees the production lines, making sure the software has everybody working smoothly every single day. Based on his experience with Process Designer, he provided input and closely collaborated with the Siemens Digital Industries Software development team to determine the requirements for Easy Plan at the Giengen site. He also tested and implemented it. At the moment, he is involved in training his colleagues and completing the Easy Plan rollout onsite.
"We have specific cycle times for our assembly lines," says Weckend. "For each workstation we try to find the perfect amount of work content.
"You can learn Easy Plan quite fast. It is easy for me to train new colleagues, trainees and students. The user interface is quite intuitive. If you have worked with an internet browser then you know where you have to click with Easy Plan. Easy Plan is just very easy to use. I think this is why the implementation is quite seamless."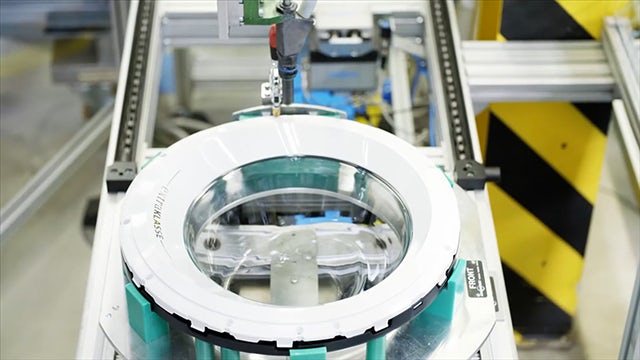 Global rollout
Thanks to the Siemens Xcelerator business platform, including the Teamcenter product lifecycle management (PLM) backbone and Siemens digital manufacturing solutions, product development is directly linked to manufacturing. All BSH designers, development engineers, procurement specialists, planners and industrial engineers in the plants can access the same data and assembly trees via Teamcenter. For production and factory organization, BSH handles the digital factory process mostly on a plant-by-plant basis. Certain plants are highly automated, even running various plug-ins for advanced robotics and cobotic simulation in Process Simulate while other plants still plan more traditional lines in Line Designer. In every case, the Teamcenter and Tecnomatix solutions allow for maximum flexibility.
"We basically have the entire Siemens digital manufacturing portfolio in place," says Winter. "To start a process, we use Line Designer to design our lines. More advanced users at a different plant might use Process Simulate for human and/or robot simulations. And Easy Plan is really a daily business tool. What is great is that we can play this data back in Teamcenter and re-use it at another time and location. This allows us to have faster ramp up times and highly efficient automation processes as well.
"Ultimately, we have this one point of truth. Our digital factory solution based on Siemens software is the right way forward for BSH, especially because our overall goal is closed-loop manufacturing."
During the summer of 2022, BSH was half-way through its global 40-plant rollout of Easy Plan. It is the new standard throughout the company and over 200 engineers and planners will use it worldwide.