Case Study
Industrial machinery supplier uses Insights Hub to increase process efficiency
Bror Tonsjö AB uses Siemens solution to prepare for Industry 4.0
Bror Tonsjö AB
Bror Tonsjö AB offers advanced cutting processing in metallic materials to customers with high demands on quality. Bror Tonsjö AB offers complete solutions in the areas of turning, milling, and long hole drilling.
http://www.tonsjo.se/en/home
Headquarters:

Kode, Sweden

Products:

Insights Hub

Industry Sector:

Industrial machinery
As global companies seek to provide customers with Industry 4.0 solutions, it has become increasingly important to develop new levels of efficient shop floor production, capable software, and interconnected machinery. The more machines in your production factory, the greater the profits to be made with the help of automated coordination, monitoring, artificial intelligence (AI), and digital control.
"That's exactly how it is," says Clas Tengström, CEO, Bror Tonsjö AB. "We already had a high degree of automation in terms of the individual machines but wanted to connect several more to get more out of the machines and increase process efficiency."
As technology evolves, it is paramount for companies to stand apart from the competition. In light of this, being a traditional player is not the best way forward, an insight Tengström and his employees translated into sharp action. This is a main reason they are launching an extensive digitalization process to drive production into the future.
Advanced machining specialists
A Swedish industrial equipment supplier, Bror Tonsjö AB offers customers advanced cutting processing in metal materials based on complete solutions in the areas of turning, milling, and long hole drilling. Its automated production process includes everything from round bars to casting and forging blanks.
Bror Tonsjö AB specializes in turnkey production lines to meet its customers' demands for productivity, efficiency, capacity, and quality. The company is also emboldened by a network of subcontractors in surface treatment, grinding, sparking, hardening, and more, which makes it possible to serve the entire value chain.
Bror Tonsjö AB has a number of large original equipment manufacturers (OEM) as customers. Scania, Parker Hannifin, SKF, and Epiroc are among their largest clients, and they expect high quality and delivery security.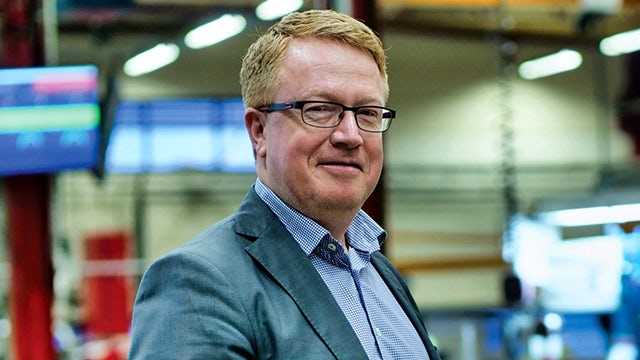 "We wanted to connect several more shop floor machines to Insights Hub to get more out of them and increase process efficiency," says Clas Tengström, CEO, Bror Tonsjö (Image copyright Siemens AG).
Benefits of an IoT system
"No matter how good we think we are, the challenge lies in never stopping in the technical development," says Tengström.
The trend toward automation is gaining momentum. And in this revolution, solutions around the Internet of Things (IoT) and industrial IoT are the supporting pillars.
Integrating Insight Hub
Bror Tonsjö AB turned to Insights Hub, the industrial IoT solution from Siemens for improved operational decision making, to begin realizing the company's digitalization vision. Insights Hub is a part of the Siemens Xcelerator business platform of software, hardware and services.
For Bror Tonsjö AB, Insights Hub connects different assets from older milling machines to modern computer numerical controls (CNC) and new robots to the cloud. With Insights Hub, they can connect, control and monitor an almost unlimited number of machines within the framework of their state-of-the-art operative technology (OT). This allows Siemens and installation partner AFRY (formerly ÅF/Pöyry) to continue to play important roles as partners for product lifecycle management (PLM), automation and industrial IoT.
"We have around 100 units on the shop floor," says Tengström. "which are CNC machines, multi-ops, robots, measuring machines and industrial washers. The positive experiences from the first part of our project is that we have connected about 70 of these units to our business system, which provides the basis to monitor the conditions of those assets in real-time. Connecting another 20 to 25 pieces of assets is the second phase. We are now moving forward with the goal of connecting all 100."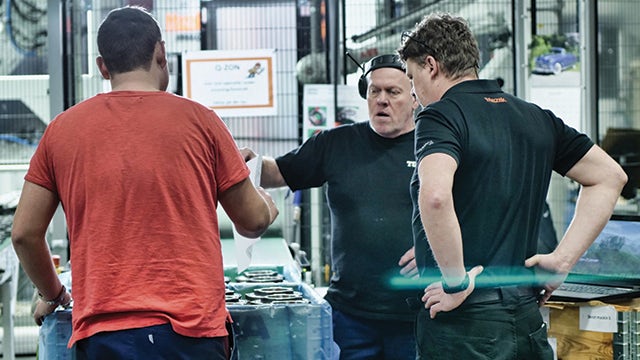 As deviations and malfunctions are easier to spot ahead of time , the working environment for employees is improving. (Copyright: Siemens AG).
Connecting 100 old and new machines
Bror Tonsjö AB has an age-diversified machine park, with everything from the latest models to machines that are over 20 years old. "This was also an important reason why we chose Siemens and Insights Hub," says Daniel Karlsson, Engineering Manager of Bror Tonsjö AB. "They have the solutions that make it possible to connect both older machines and new ones. As for the oldest machines, we have kept a PLC from Siemens that connects them to the system with a cable, while the newer machines were already prepared for connection to the cloud. Approximately 60 machines have been connected, such as CNC machines, multi-ops robots, measuring machines and industrial washers. But we are planning to add another 20 to 25 units."
Karlsson goes on to explain that these connections mean that the factory's machines and wide range of sensors communicates data to MindConnect®, a plug-and-play connectivity solution that collects and sends uninterrupted data to Insights Hub. He also states that this, with visualization, was an important reason for the investment: "We wanted to be able to visualize problem areas and get more data to be able to make better decisions," says Karlsson.
"The cloud gives us access to powerful computing resources, making it possible to conduct heavy analysis while pulling vital data down in real-time," says Karlsson. "This data is then shown on display panels throughout the factory, revealing important statistics and disclosing any warnings of deviation."
Readiness for quick problem solving
The potential profits of digitalization make it an easy decision for Bror Tonsjö AB to take on this game-changing process. But of course, an installation of this scale is not something that is accomplished overnight.
"In a perfect world, everything runs exactly as intended. But in reality, there are things that emerge that need to be resolved," says Tengström. "This was not unexpected for two organizations that were in a learning process. But the important thing is not to worry about bugs and other things that appear. The important thing is there is the determination and knowledge to make sure everything works. This was also something that characterizes both organizations and it is no coincidence that everything is solved and works well."
Insights Hub improves the machine operating process
Tengström says that installing Insights Hub has provided a significant boost for Bror Tonsjö AB and its workforce. Updating the company's processes has increased its market competitiveness and made each employee feel as though they have ownership in the company. He also feels that the arrival of Insights Hub has made work life easier for all machine operators.
"We have come to a point where we can use data to anticipate and prevent problems," says Tengström. "Machines that stand still produce nothing and provide no revenue to the company. In fact, downtime in producing machinery is the worst enemy of any engineering and manufacturing company. If this can be avoided, there is a lot to be gained. This is one of the reasons why the connection between IT and OT is crucial."
"With Insights Hub, we have a perfect tool for measuring how things are going. We look at productivity measured in active machine hours. Through Siemens software's overall equipment efficiency functionality, we receive key figures where we can look at the results in several levels, from the whole to the performance of individual machines," says Tengström.
Industry 4.0 is no longer just a buzzword
"In addition to future machine installations, our future plans include developing the visualization platform around things like maintenance," says Tengström. "With Insights Hub, we have been given an almost unlimited opportunity to do what we want. In 2017, Industry 4.0 was just a buzzword. Since making the decision to install Insights Hub, we are moving towards heightened competitiveness and are much better prepared to lead our customers into the future."