Case Study
Using Siemens Digital Industries Software tools enables glass bottle and jar manufacturer to reduce cycle time
Bormioli Luigi finds that NX significantly enhances its mold development process
Bormioli Luigi
Founded in 1946, Bormioli Luigi S.p.A. specializes in the production of perfume bottles and has established itself as an ideal partner for companies of any size, from global corporations to local businesses.
http://www.bormioliluigi.com/
Headquarters:

Parma, Italy

Products:

NX, Solid Edge

Industry Sector:

Consumer products & retail
Working with premier brands
Bormioli Luigi is a world-class manufacturer of glass bottles and jars, and has three divisions: containers (bottles and items for the perfume industry), housewares (standard and stem glasses and bottles) and spirits (sophisticated and special bottles for grape, cognac and other beverages).
Perfume bottles remain the core business, accounting for 80 percent of the company's revenues. Bormioli Luigi covers a number of markets, including France, the United States, the Middle East, Italy, Spain, Germany and Great Britain.
"We collaborate with all the leading brands," says Carmine Barbato, chief of engineering at Bormioli Luigi. "From Chanel and Procter & Gamble, which includes D&G, Lacoste and Hugo Boss; to the American brands, such as Victoria's Secret, Elizabeth Arden and Avon; to French brands, such as Coty, owner of Davidoff and Lancaster brands; and LVMH, owner of the Christian Dior brand, we work with all the top companies. We deliver glass bottles to all these customers complete with decorations and possible accessories, such as the textile crocodile applied to one of the latest Lacoste products."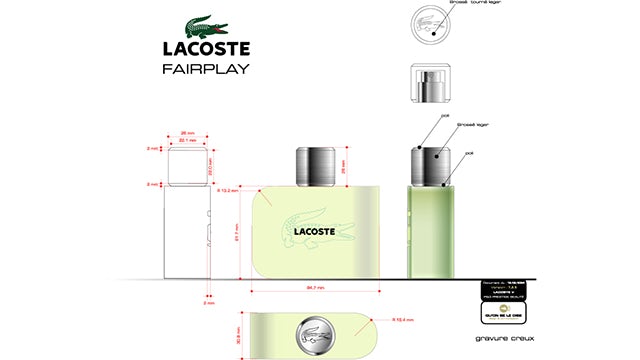 Adopting a parametric approach
Until the late 1990s, the company had used 2D design software. However, it decided to adopt 3D technology for a number of compelling reasons, especially to create models so that it could generate computer-aided manufacturing (CAM) programs for the machine workshop. The first software Bormioli Luigi purchased did not take a parametric approach and lacked solid modeling functionality, so it became clear that the firm would need a more advanced product lifecycle management (PLM) solution. The Bormioli Luigi team identified NX™ software from Siemens Digital Industries Software as the best solution because of its comprehensive capabilities, with features and functions that largely exceeded the requirements of the engineering department.
"We began with five licenses," says Barbato. "Later we decided to reorganize all our processes within the NX Sketch environment, adopting a fully parametric approach. This has significantly shortened the design change and iteration cycle between ourselves and the customer, and all modifications executed by the CAM engineer are transferred directly back to the 3D model, which significantly enhances our process speed, reliability and traceability."
The Bormioli Luigi engineering organization includes two offices: a 12-person mold development group, and a 7-person machinery equipment office. It is an ideal partner for companies with a strong quality focus – from global corporations to smaller local businesses – because it makes continuous investments in advanced technology, develops product knowledge at all levels of its organization and is equipped to take advantage of the opportunities that result from an expanding global market for personal care products.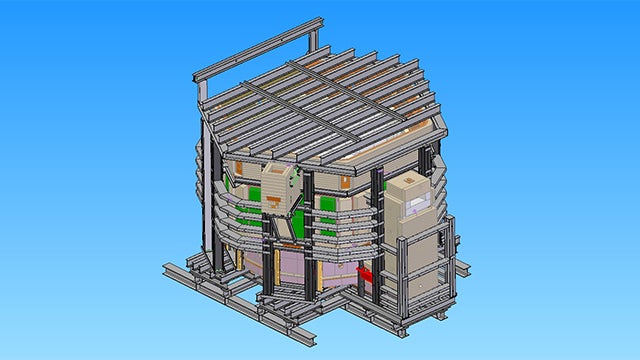 Automating the process
The creation of a new bottle starts from the request of a customer, who submits a sketch or a 3D model of the container to Bormioli.
"The customer provides a set of specifications, including capacity and glass thickness, asking to check feasibility," Barbato explains. "The first step is checking to see if item dimensions, bottle capacity and glass thickness are compatible. Then we check the technical feasibility of the project."
The Bormioli Luigi engineering department has parameterized and unified the mold development cycle to shorten time-to-market.
"Our automated machines normally use steel or cast iron molds, made up of two shells, where glass is poured and blown," says Barbato. "If the bottle design is sophisticated, there might be undercuts or other details that make it impossible to create a mold comprised of only two parts. So we go back to the customer with an alternative solution, pursuing the best tradeoff between our technology and their requirements."
Ultimately, Barbato's purpose is to automate the entire design and engineering cycle with standard working methods, and to eliminate paper completely, as it will no longer be necessary to print out any drawing.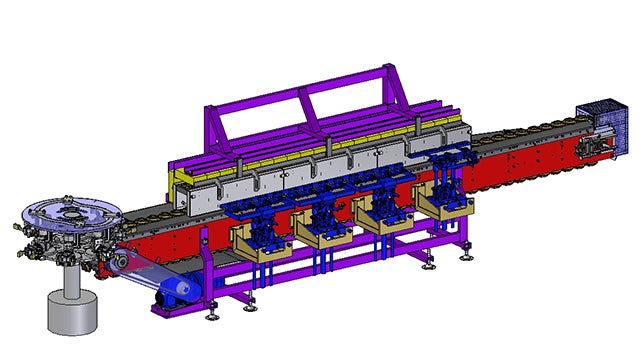 Capturing experience
Barbato notes that glass production is not a science, despite all the technology currently available. It is a form of art or, to use Barbato's words, "an experience."
"Bormioli Luigi has more than 60 years of experience in mold production for glass casting," he says. "With NX, we have succeeded in capturing this experience and translating it into formal working procedures and methods. When the customers sign the official bottle drawing, which is submitted as a PDF file, we start manufacturing the pilot mold. All the parts – blow head, plate, stool, punt, preparation unit, etc. – are designed with NX."
The pilot mold components are manufactured using numerical control (NC) programs for machine tools generated by NX CAM. The test samples cast from the pilot mold are submitted to the customer for approval. Once modifications have been made, the final set of molds is produced.
"If the molds are modified after the sampling tests, the technical drawings can be reviewed and updated very quickly and easily with NX and sent back to external partners," says Barbato. "With NX, we have no problem exchanging files in any format. We normally receive PDF, DXF, STEP or IGES files, but we can output all formats handled by NX. Customers and mold makers mostly request STP and IGES files, while others ask for files from Parasolid, DXF for 2D drawings and STL for rapid prototyping."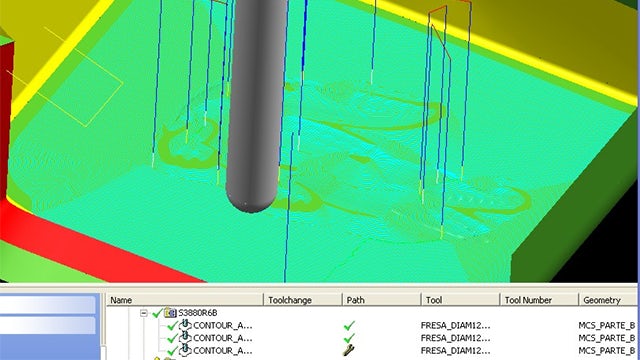 Realizing a trio of benefits
The adoption of NX has resulted in three key benefits for the Bormioli Luigi engineering department.
Barbato explains, "First, designing in the NX Sketch environment has significantly reduced development time, because the parametric approach allows the company to make changes much faster than in the past."
"Second, NX provides surface modeling tools that are much more advanced than other solutions on the market."
"And finally, with NX CAM, we have a much faster and more reliable solution to generate the NC programs and toolpaths for the 3-axis machines that mill our molds."
Emphasizing speed and flexibility
Filippo Sirocchi, design manager, directs the department in charge of developing machines and equipment at Bormioli Luigi. He is responsible for making all required modifications and upgrades to existing or purchased equipment, in order to carry out the production of specific items. His office also handles spare parts.
Recently, Bormioli Luigi has started using Solid Edge® software, also from Siemens Digital Industries Software, to design ovens, characterized by large assemblies and repetitive elements with simple geometry. The software allows Bormioli Luigi to simulate both the oven construction and the operating systems, simplifying the process and speeding up onsite operations.
"Our key requirements include speed in the change management process and utmost flexibility," says Sirocchi. "We have been using Solid Edge for several years and are now utilizing synchronous technology. We really appreciate the efforts of Siemens Digital Industries Software in combining synchronous and non-synchronous approaches within the same file, so that the user isn't forced to choose one method at the project start. This means that we have great freedom to experiment and test the system's potential without impacting productivity. Synchronous technology has also proved its usefulness by enabling us to import our existing portfolio of projects designed with NX."
More to come
Additional product lifecycle technology technology appears to be imminent in the Bormioli Luigi design and manufacturing process: "We're already talking to Siemens Digital Industries Software about introducing Teamcenter software in order to integrate our entire supply chain, including external partners," says Barbato. Teamcenter® software enables end-to-end PLM and advanced collaboration through a single source of knowledge.