Case Study
Siemens software helps prepare students for working collaboratively in a digital environment
Bochum University of Applied Sciences uses Teamcenter and NX to provide students with cutting-edge engineering skills
Bochum University of Applied Sciences
The Bochum University of Applied Sciences was estab-lished in 1971. With 900 employees, it offers its 8,200 students integrated academic education and training at its campuses in Bochum and Velbert, Germany. Its six departments cover the main focal areas of construction (architecture, civil engineer-ing, geodesy), engineering (electrical engineering, informatics, mechatronics and mechanical engineering) and business.
http://www.hochschule-bochum.de/en/
Headquarters:

Bochum, Germany

Products:

NX, Teamcenter
A sound foundation for future careers
The German city of Bochum lies in the heart of the Ruhr River Valley. Once the center of German mining and manufacturing, it is a polycentric urban area and part of the larger Rhine-Ruhr metropolitan region of more than 10 million people. Near the center of this region rich in universities lies the city of Bochum, which is home to several academic institutions.
The Bochum University of Applied Sciences (UAS_BO) combines and integrates classroom education with practical training. It has 8,200 students who profit from the mix of state-of-the-art knowledge in engineering, economics and business management, the fostering of important transferable skills for career and everyday life as well as the practical expertise of lecturers and partners from regional institutions and partner universities abroad.
Core engineering disciplines at UAS_BO are electrical engineering, informatics, mechatronics and mechanical engineering. The university offers courses along with training in a cooperative engineering education program. In order to maintain the university's practice-oriented focus, only professors with several years' experience in professional practice are entrusted with teaching students. This provides students with a sound foundation for their professional careers.
In its two campuses in Bochum and Velbert-Heiligenhaus, the university pursues an innovative path in teaching and research. Six departments cover the main areas of construction (architecture, civil engineering, geodesy), engineering (electrical engineering, informatics, mechatronics and mechanical engineering) and business. With about 50 bachelor's degree courses, the goal is to equip students with the knowledge and skills that will allow them to transition as seamlessly as possible to their careers.
Beyond providing academic knowledge, UAS_BO fosters the independence and personal responsibility of its students. To this end, the Institute for Study Success and Didactics (ISD) was established to take care of cross-faculty training, such as imparting transferable skills, teaching and support of entrepreneurship.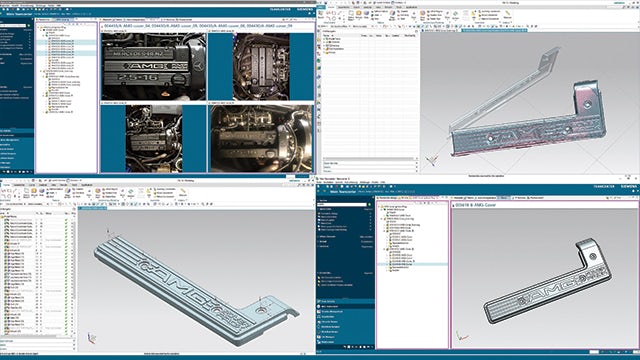 Computer-aided design education
"In our engineering department, project orientation is the central thread woven throughout the learning experience all the way from the first idea all the way to a produced 'graspable' product," says Dr. Michael Radermacher, professor, scientific head of the ISD and director of the Ruhr Master School of Applied Engineering (RMS). "To support the product creation skills they will require in a digitalized industry, we provide our students with the means to spin a digital thread of fully consistent virtual product and production information."
In many courses, students in mechanical and mechatronic engineering courses use NX™ software, which is a part of the Siemens Xcelerator business platform of software, hardware and services, an integrated solution for computer-aided design, manufacturing and engineering (CAD/CAM/CAE). They start by creating digital designs, some-times using 3D scans for reverse engineering. This is often followed by structural analyses of the designed parts using the finite element method (FEM). To perform these analyses, the students do not need to leave the familiar NX environment.
UAS_BO students' use of NX software for part creation ranges all the way to design optimization for additive manufacturing (AM). They use the software's comprehensive set of preparatory features for 3D printing among other things to semi-automatically create the support structures required for the selective laser melting process in the university's additive manufacturing equipment.
Some of the more advanced UAS_BO students work in electromobility projects, building solar-powered cars they use to compete in the World Solar Challenge in Australia. One of their creations, the SolarWorld GT, earned an entry in the Guinness Book of Records for its round-the-world trip.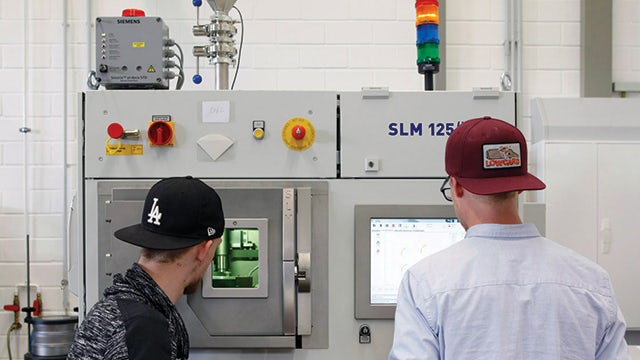 PLM is an important focus
At UAS_BO, software support goes well beyond using NX software for part and assembly creation, structural analyses and manufacturing preparation. An integral part of the curriculum is product lifecycle management (PLM). The university uses Teamcenter® software, also part of Siemens' Xcelerator portfolio, to store and manage all product-related information.
"We introduced the software to facilitate easy collaboration among students across various fields of specialization to better prepare them for their careers," says Radermacher. "In many courses, mechanical engineering students at UAS_BO are introduced to the PLM system the day they start here and use Teamcenter from their first designs on."
Product lifecycle software is not self-explanatory, nor is using it to harness the work of hundreds of students and lecturers. "Following an elaborate selection process, we chose Teamcenter for the favorable licensing scheme and support as well as the rich ecosystem Siemens provides academic users," says Radermacher. "As the software is extremely powerful and requires both personalizing and integrating with our existing software environment, we supported its operation, employing a dedicated system administrator."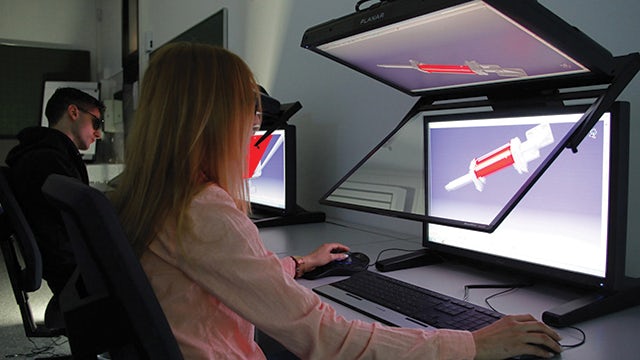 Challenging complexity
Using Teamcenter, UAS_BO created a collaborative working environment, allowing engineering students to share 3D models, bills-of-material (BOM), drawings and workflows throughout projects. As in the case of the solar-powered cars, these can sometimes span several semesters and involve generations of students as well external project team members.
Using Teamcenter in this collaborative environment to store and retrieve all engineering-related information, students safely rely on the completeness and valid-ity of the information they require to complete their part of the overall task. Always knowing where the information is and not needing to spend time searching helps them overcome complexity and supports their project implementation efficiency, as does versioning and approval workflows. This in turn helps them to better meet their career challenges.
UAS_BO students also have access to a vast library of self-paced courses and assessments in the easy-to-use, convenient Siemens Xcelerator Academy e-Learning portal. Requiring only an internet browser, it provides cost-effective and time-efficient methods for users to gain skills and knowledge of Siemens solutions.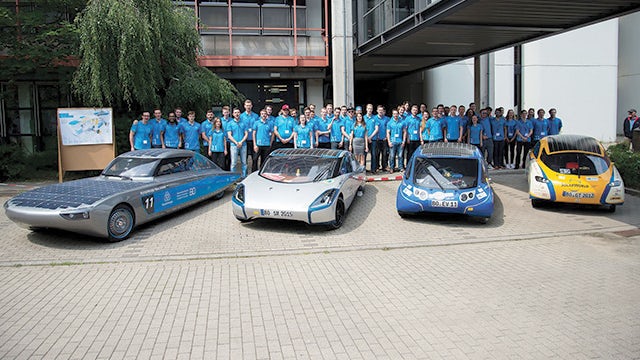 Streamlining education
Using Teamcenter facilitates better organi-zation, more efficient product design and faster production preparation. But these are not the only benefits Teamcenter provides. UAS_BO is also using the soft-ware to review the students' work. The software can be used for redlining and provides lecturers with the opportunity to monitor their students' work so they can swiftly provide support when needed.
UAS_BO decided to establish specific Teamcenter group sessions as a virtual environment for exams. This eliminated all the real or potential technical issues involved with submitting the results, including discussions about whether the work was submitted in time. Teamcenter also provides teachers with an opportunity to check the documents for thoroughness. "With Teamcenter, students find it harder to use someone else's work," says Stefan Binder, special assignment lecturer for mechanical engineering and mechatronics at Bochum University of Applied Sciences. "In an exam, I can always see who had originally created a part."
UAS_BO lecturers found using Teamcenter for exams particularly helpful during the COVID-19 pandemic. "While at other times all students taking a practice exam are in a room, during the pandemic they partici-pated from who knows where," Binder confirms. "Using Teamcenter as the under-lying working environment, we hardly felt their absence."
Using NX and Teamcenter from the early stages of their education, students at UAS_BO get familiar with the same lead-ing-edge technology they will likely use once they are employed. "Their future employers benefit from their ability to collaboratively master fully digitalized product creation processes," Radermacher concludes.