Case Study
Reducing time-to-market with the smart biosphere application by 72 percent
Biosphere Foundation uses Insights Hub and Mendix to monitor and restore nature and address the climate emergency
Biosphere Foundation
Biosphere Foundation is the nonprofit trading arm of the North Devon UNESCO Biosphere Reserve (NDUB), one of 735 global biospheres covering 5 percent of the earth's surface. It leverages technology to create scalable and credible market infrastructure that connects institutional level investments with nature-based interventions to address climate change, restore nature and create community prosperity.
https://www.biospherefoundation.co.uk
Headquarters:

Barnstaple, North Devon, United Kingdom

Products:

Insights Hub, Studio

Industry Sector:

Energy & utilities
The future of nature restoration
The North Devon, UNESCO Biosphere Reserve (NDUB), is one of 735 global biospheres covering five percent of the earth's surface and protects an internationally important natural ecosystem that is larger than the city of London. Biosphere Foundation, the nonprofit trading arm of NDUB, aims to create scalable and credible market infrastructure that connects institutional level investments with nature-based interventions to address climate change, restore nature and create community prosperity. The foundation focuses on regional, national and international rollouts as well as natural capital economics. They also help local governments, water companies and entities achieve net-zero targets. The mission of Biosphere Foundation is to promote innovative approaches to economic development that are socially and culturally appropriate and environmentally sustainable.
Biosphere Foundation partnered with Siemens Digital Industries Software to use solutions including Insights Hub, the industrial IoT solution from Siemens for improved operational decision making, and the Mendix™ platform. These solutions are part of the Siemens Xcelerator business platform of software, hardware and services.
Several key factors led Biosphere Foundation to use Siemens' solutions for the Natural Capital Marketplace (NCM) and Smart Biosphere initiatives. First, the foundation noticed a lack of end-to-end online trading platforms for natural resources, which resulted in limitations of route-to-market for landowners and buyers. What is more, their original infrastructure was weak and lacked an effective method to monitor the process that created delays due to low geographic monitoring density, limited data integration and siloed sensor data in different resources. Biosphere Foundation started working with Siemens to implement new solutions to combat these issues and create comprehensive infrastructure to help the overall biosphere and promote sustainability in the area.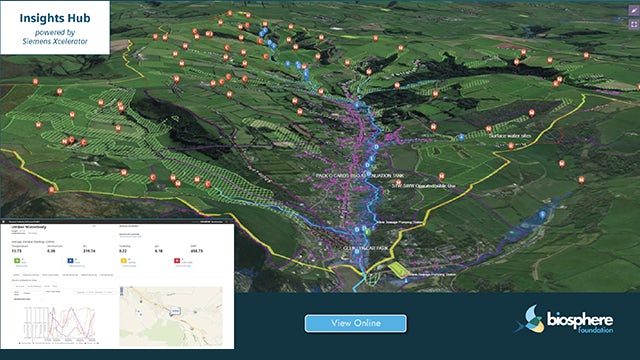 The Natural Capital Marketplace
"We have built the Natural Capital Marketplace , which connects the dots and accelerates the scale of natural capital improvement projects across the UK," says Rob Passmore, commercial and technical lead of Biosphere Foundation. "We do this by providing landholders with custom-matched projects that they can choose that align with their objectives for their land."
The foundation used Mendix to accelerate application development while enabling collaboration at each step to build the end-to-end trading platform by using a drag-and-drop program through a graphical user interface (GUI). Developers of varying experience levels collaborated with citizen developers to create applications without writing a single line of code, which reduced the developing time dramatically.
"Using Mendix helped us reduce time-to-market by 72 percent after implementing the NCM," says Passmore. "As a landholder, it is free and easy to use the trusted NCM platform, easily figure out the verified delivery partners, thereby they can generate incremental revenue from their land."
Additionally, the Devon County Council is now committed to using Siemens' solutions to power the NCM for its future offsetting needs. They plan to bring the marketplace to the North Devon community and use it in water utility companies, local areas and across the United Kingdom (UK). Biosphere Foundation is also adding new products such as salt marsh carbon, two new catchments, phosphate monitoring and enterprise architecture (EA) toolsets.
"We view Siemens technology as a critical competitive advantage. In my 25 years in the technology industry I can honestly say, I haven't come across a portfolio that collapses time-to-market so much. But its more significant than just speed to market - it enables ideas to be realized by their creators, which has resulted in improved product quality and usability.
"Because we can move fast, we can work with smaller development teams, with improved communications, and less cost. This means smaller, less time raising capital and more time on business delivery. As products grow, we have been able to maintain a high percentage of development effort on new features, rather than quality assurance and DevOps. Finally, it enables you to start small and experiment and if things take off, you don't need a rebuild, you just need to run with it," says Passmore.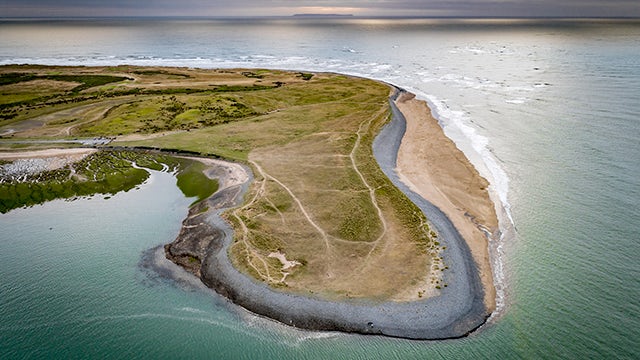 The Smart Biosphere
Biosphere Foundation has developed the "Smart Biosphere" concept since 2019. The team launched this initiative in April 2022 by leveraging Insights Hub and Mendix, which enabled them to turn concepts into insightful actions. Through the collection of the internet of things (IoT) data with a growing sensor network and various sources such as weather data, enabling best of breed IoT data collection management and analysis alongside the ability to integrate those skills through widgets and tight data integrations into the customer facing applications developed in Mendix. The developers have a single interface to work with and the operating team has the strength of Insights Hub to fall back on for security, data acquisition and operational reporting.
The Smart Biosphere is designed to create an integrated decision support tool based on the catchment scale, covering water quality, flood risks, agricultural management, runoff and the placement of natural capital interventions. It was divided into two aspects: services and components. The services included smart forestry, smart catchment, smart agriculture and monitoring, reporting and verification (MRV). The components included a comprehensive digital twin, internet of things (IoT) remote sensor network, machine learning (ML), artificial intelligence (AI), big data and earth observation.
"With industrial IoT, we can collect secure and structured data from multiple sensors, gauges, satellites and other resources, which provide us the base to analyze and turn that IoT data into insightful actions to address specific issues. For instance, we have numerous sensors installed across the lake to monitor the water level. All data is transferred to Insights Hub, where it is analyzed to determine whether the water level is beyond the alert level, effectively preventing flooding and mitigating farmer losses," says Passmore.
Looking ahead to an environmentally sustainable future
Siemens' technology provided a critical competitive advantage to accelerate digital transformation of the natural capital sector. Biosphere Foundation has used Siemens' solutions to make significant strides in nature restoration. They created a model that can be applied to other areas and scaled with low incremental cost. However, this is just the beginning of their work with Siemens' solutions. In the next several years, the foundation plans to launch more market platforms using Insights Hub and Mendix in various regions throughout the UK and beyond.
Siemens will implement "technology with purpose" in collaboration with Biosphere Foundation to address the climate emergency, enable nature recovery and fulfill sustainable mission.