Case Study
Italian manufacturer of processing machinery implements digital transformation with Teamcenter
Siemens Digital Industries Software supports data sharing and collaboration across all business areas and roles at Biesse Group...
Biesse Group
Biesse Group SpA is a global leader in wood, glass, stone, plastic and metal processing technology. The company designs, builds and distributes machines, integrated systems and software for companies in furniture, windows, construction elements, shipbuilding and aerospace.
http://www.biessegroup.com
Headquarters:

Pesaro, Italy

Products:

Geolus, PLM Components, Solid Edge, Teamcenter

Industry Sector:

Industrial machinery
A global leader in processing machines and systems
Biesse Group is a global leader in wood, glass, stone, plastic and metal processing technology. The company designs, builds and distributes machines, integrated systems and software for companies in the furniture, windows, construction materials, shipbuilding and aerospace industries. Biesse Group's investments in research and development total €14 million annually, and the company has more than 200 registered patents. The company has 12 industrial sites, 39 subsidiaries, 300 agents and selected resellers, and a 90 percent export share. Founded in Pesaro in 1969 by Giancarlo Selci, the company has been listed in the Star segment of the Italian Stock Exchange since 2001. The current global workforce is 4,100 employees.
For 50 years, Biesse has served the leading furniture companies, offering a full range of technologies, advanced software and services to meet the demands of the furniture business. Digitalization is a momentous change that is revolutionizing the market. Biesse Group decided to invest in its capacity and to look ahead and even to anticipate the future, supporting customers and their growth with advanced technology and services to digitalize and automate factories and manufacturing operations by optimizing all key assets: technology, strategy, organization and human resources.
Biesse Group is gradually transforming from a machinery and system manufacturer to an organization that offers a wider portfolio of innovative services, helping customers who join the Biesse world to increase their productivity and performance.
Services play a key role in the digital transformation of the company and its operations. It starts with product development. For fifteen years, Biesse Group has been using an established CAD platform, Solid Edge® software from Siemens Digital Industries Software. However, as CIO Giovanni Bellucci explains, the process was not fully optimized nor supported by suitable management tools. "To support collaborative design with Solid Edge, we had a basic product data management system with significant constraints in terms of functionality and performance, preventing extended data sharing across the entire organization," Bellucci says. "It was not a PLM solution, but just a data management tool."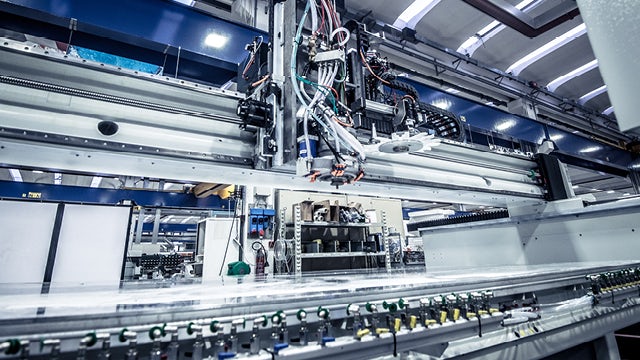 Digital transformation
The IT department, together with other business areas, launched a process to implement suitable platforms for the requirements of a global corporation like Biesse Group and to review all development processes, from product creation to engineering change management, from special product feasibility and execution to aftersales service management. "These are the four macro areas that make up the project," Bellucci says. "We had clear goals: to organize and optimize processes that were often hybrid and unstructured; to reduce errors and response time of inadequate obsolete systems; and most of all, to make product information accessible to all stakeholders in different business areas and roles."
Centralizing data was the first key step to enable enterprise-wide information sharing. Biesse Group identified PLM technology as a pillar of the digital transformation process. "The product is the most valuable asset in our organization, now combined with services, whereby lifecycle management plays a key role," Bellucci emphasizes.
Transformation began in the second half of 2015 with an accurate analysis of internal processes, followed by the definition of functional requirements to be implemented in the new platform. "After defining the 'tobe' model, we built a real business case to analyze costs and benefits of the new solution and to define an accurate roadmap," Bellucci adds. "This phase took until October, then in the final quarter of 2015 we focused on software selection, involving the top three PLM vendors."
Selecting a system
The selection process was finalized in December 2015 with the choice of Teamcenter® software, mostly driven by the tighter integration of Teamcenter with Solid Edge. "Efficient CAD-PLM integration is essential, and by choosing the same vendor, we were more confident in this respect," Bellucci says.
Secondly, Biesse Group recognized that Teamcenter is a market-leading PLM solution, one of the most popular in the industrial equipment sector. Davide Andreatini, technical director of the Working Center business unit within Biesse Wood Division and project leader for the Business area, illustrates the reasons for the selection of Teamcenter in detail. "With Teamcenter, we found a solution that offered all the capabilities we needed," he says. "Furthermore, the platform is open to future extension towards other modules and applications, so it offers solid confidence in the long term. Teamcenter can grow beyond the current project boundaries, for instance with the addition of configurators and advanced virtual commissioning and simulation capabilities."
The project team also requested tools for shape-based searches, choosing Geolus® software, the 3D geometry search engine that offers the ability to identify similar parts based on geometry and shape.
"The primary function of Geolus is detecting redundancies in our heritage of drawings and components, eliminating the need to code existing items again," Andreatini explains. "To give you an idea of the size of this task, Geolus indexes all items imported into the PLM system, currently one and a half million items."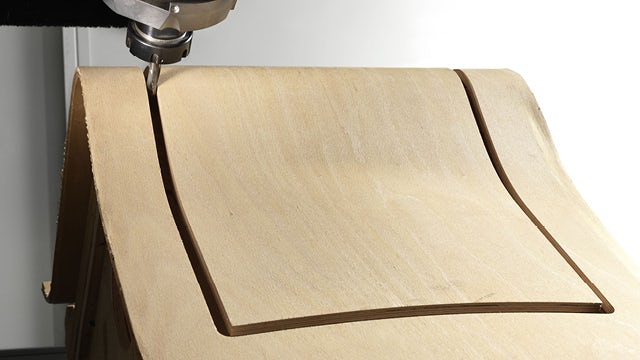 Deployment collaboration across technical and business stakeholders
Teamcenter and Geolus were implemented by the system integrator of Biesse Group, supported by Siemens in specific project stages. The PLM project at Biesse involved Siemens as the vendor, the system integrator, the customer's IT and business roles (project manager, process owners and key users of specific areas). The project involved a dozen employees with project roles in total, but considering evaluation, test and training, the number of stakeholders is close to one hundred.
"Like all projects, this is not just an IT project, but rather an initiative that requires the collaboration and convergence of IT skills and key business roles," says Luca Presciutti, IT project manager and IT business analyst for research and development at Biesse Group. "Organization and project management were handled at four hands, involving information systems (with technical roles and business analysts with process and system expertise) and business roles, that is, process owners."
Once finalized, the project will involve approximately 1,000 out of 4,000 employees, so 25 percent of staff will be impacted by Teamcenter. "Those 1,000 users are mostly located in Italy in the wood, stone and mechatronic business units," Presciutti says. "More Teamcenter users will be in the business units in India and China, and others will be able to access service information from 37 subsidiaries dealing with sales and service.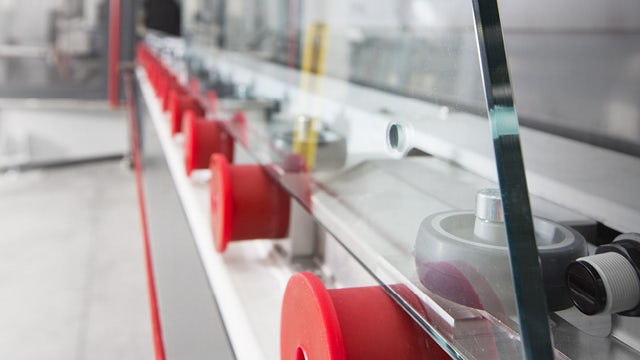 Measurable benefits
The first project stage was the most critical for the transition approach and the number of users involved. "In January 2017 we went live across all business units, transitioning 440 people to the new system in one day," Bellucci says.
"As we get up and running with the management of all product development processes, which will be the key benefit of the Siemens solution, Teamcenter has already brought significant advantages to 3D CAD in Biesse," Belluci explains. "PLM improves the quality of objects created and managed in the platform, as it implements structured processes and workflows to prevent specific roles from making mistakes due to a lack of control and rules. Furthermore, the availability of a unified platform allows us to share all product information consistently across the group, with the additional possibility of opening up to collaboration with external partners, design offices, material suppliers and subcontractors. Finally, with a huge volume of data, the use of Teamcenter has introduced an organization of information that significantly streamlines searching and browsing of bills of materials and product structures."
"With Teamcenter we have deployed a system that confirms the reliability and accessibility of mechanical CAD data, and manages the release of the items," Andreatini adds. "The integration between the headquarters and our offshore entities in China and India is supported by the availability of shared details and functional units across all sites. We have also improved CAD data certification with verification and approval workflows, and finally, the Teamcenter platform enables collaboration among all roles in the technical area, including electrical and pneumatic engineering."
Basically, three main benefits have already been identified: a reduction of CAD data opening and saving time; a reduction of information retrieval time in the technical department; and a reduction of engineering change execution time. "The first two benefits have already been achieved, while the latter is an estimate based on our business case," Presciutti says.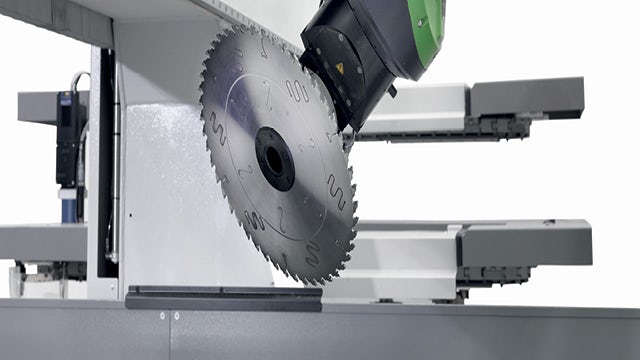 Toward IoT
The use of Teamcenter provides Biesse with a structured data source to feed other applications automatically, for example, enterprise resource planning (ERP) for manufacturing bills of materials (MBOMs). "We are also developing other platforms that will benefit from PLM integration, especially the Internet of Things," Presciutti adds. At Ligna in Hanover in May 2017, Biesse Group presented SOPHIA, the company's Internet of Things (IoT) platform that provides customers with a wide range of services to maximize their efficiency while simplifying and streamlining their operations. SOPHIA is based on cloud connectivity and special sensors installed on Biesse machines, which collect and transfer realtime information about technological assets to optimize performance, prevent malfunctions and increase machine and plant productivity. A direct connection to Biesse's spare part portal, and the ability to update software with one click provide customers with tools that simplify their daily work. The key added value of SOPHIA is its predictive capacity, the ability to look into the future and anticipate issues, identify solutions and improve performance. The IoT capabilities of the platform deliver a significant increase in productivity through constant analysis and reporting, with accurate and extensive monitoring of production.
"We expect that the second phase of the implementation project, released at the end of 2017, will bring the greatest benefits, by adding manufacturing BOMs, association to engineering BOMs, and workflows for engineering change management," states the Biesse team.
The project will close in 2018 with the third phase, when Biesse will implement product requirements management and advanced capabilities to support service and program management, completing the product development process. In the third phase the company will integrate electric and pneumatic BOMs into Teamcenter through an interface with EPLAN electrical CAD software. Another area of development is the integration of Teamcenter with bSuite, a platform developed by Biesse to manage all software for machine processes.