Case Study
BenThor builds digital twins of machines and production lines with Siemens Digital Industries Software solutions
Virtual commissioning of production lines saves time, money and stress...
BenThor Automation
BenThor Automation is a young, dynamic and growing company operating in automation and IT systems for the manufacturing industry. BenThor Automation's core competencies include automation solutions for machines and production facilities. Its main focus is the automotive industry. The services provided by BenThor Automation include a complete process chain ranging from consulting, technical solutions, hardware planning and software development to device deployment and after-sales service.
http://www.benthor-automation.com
Headquarters:

Mladá Boleslav, Czech Republic

Products:

SIMATIC, Process Simulate, Process Designer API Development, Tecnomatix

Industry Sector:

Automotive & transportation
Automation solutions for machines and production facilities
BenThor Automation, based in Mladá Boleslav, Czech Republic, develops automation and information technology (IT) systems for industrial manufacturing. The company's customers are primarily in the automotive industry and include domestic and foreign car makers. BenThor's core competencies include automation solutions for machines and production facilities with superior control technology and material flow management, and it offers services throughout the process chain, including consulting, technical solutions, hardware planning, software development, system deployment and after-sales service. The company's mission is to provide customers with competitive advantages through leading-edge technology solutions that are open and flexible and provide greater returns on investment over the long term. Manufacturing industry trends include accelerating new production introductions, beginning production as soon as possible and increasing production variability and flexibility, while at the same time improving quality and reducing costs. These trends, along with short delivery times and zero tolerance for failure present particular challenges for engineering and automation companies like BenThor.
Leveraging digital twins
To meet these challenges head-on, BenThor has digitalized its development processes using Siemens software and technologies to create precise digital replicas of manufacturing processes, production lines and devices. These digital twins enable BenThor to accurately simulate the operation of production lines using 3D models that include kinematics, programmable logic controller (PLC) programs, and control system communications.
BenThor Automation uses the Process Simulate and Process Designer solutions in the Tecnomatix portfolio of digital manufacturing software from Siemens Digital Industries Software to model processes and production lines in 3D. To augment these models with controls, the company uses the Totally Integrated Automation (TIA) Portal and SIMATIC PLCSIM simulation software for SIMATIC S7-1500 or S7-300 PLCs to develop and simulate programs for the production lines. Using these digital twins, BenThor can virtually commission machines before putting them into production to realize time and cost savings, improve quality and reduce risks.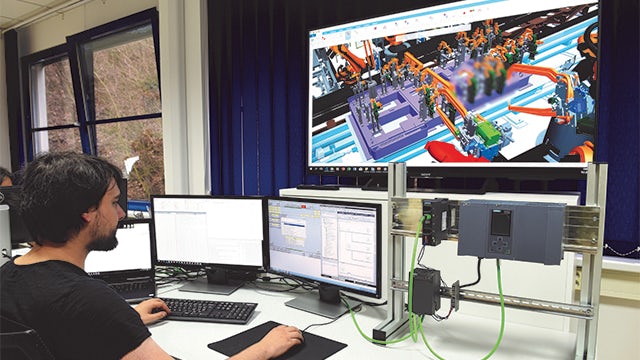 Virtual commissioning
At BenThor the basis for virtual commissioning is 3D models, complemented by logical blocks that define the behavior of individual components. For such logical behaviour, they connect signals based on electrotechnical and pneumatic schemes that enter either the PLC or the robot. "Our goal is to get closer to reality every time, to verify the basic functions of the production process before it is physically put into operation, and to provide room for tuning of possible deficits. This is also a great benefit of virtual commissioning," explains Ondřej Pažout, head of the robotics team at BenThor Automation.
At BenThor they believe that virtual commissioning represents the entire future of manufacturing, and will soon become a standard. Some global car manufacturers are demanding virtual order acceptance from their suppliers already. They can show their clients the entire solution, including production cycle time or integration of new technologies on a 3D functional line model. Virtual commissioning will soon hit all industries that consider Industry 4.0 seriously.
With virtual commissioning, BenThor can prepare the programs that control production before the line is delivered and installed at the customer facility. Once the production system is installed BenThor can simply upload the programs, fine-tune the details and test everything. "We avoid so much stress resulting from the lack of time that accompanies every job," says Head of the Robotics Team. "With virtual commissioning, we do not risk anything – it eliminates the dangers of damage to machines and staff injuries."
BenThor has realized the benefits of digitalization and virtual commissioning in two complex projects completed over the past year. In the first project, they virtually launched a production line with five robots and an eighteen-minute production cycle. Twenty parts enter the production process in eight setups that need to be reworked and controlled during processing. In total, there are more than two hundred sequential changes, whether in parts clamping or in production processes themselves. This has resulted in a large number of signal exchanges with PLCs and therefore in the need for virtual commissioning where we had to use approximately one thousand signals. The technological processes included resistance welding, bonding, handling, folding and arc welding.
The second project involved nine robots with a five-minute working cycle and a geometry station integrated into the production line, where three robots were simultaneously riveting and screwing. The operations were complex and demanding.
The customer came to see this station because he was worried and wanted to verify its functionality. The virtual commissioning took us a lot of time because there were frequent clamp changes for the work steps in the process, and we had to combine the robots' blocking zones to maintain the timing of the production line where all three robots must work at once. It was a true challenge.
BenThor's pursuit of virtual commissioning was supported by expert consulting from Siemens on specific tasks, as well as discussion forums on the Siemens Digital Industries Software support site, where experts share experiences. "We chose Siemens for its complete product and solution portfolio, their good compatibility and our positive experiences," Pažout says. "In addition, the simulation tools from Siemens are constantly evolving and developing. We also appreciate support from the Global Technical Access Center and developers, who solve user problems and afterwards implement solutions into new software versions. In addition, we like the advanced functionality of the software and the ability to connect to any robot system."