Case Study
BAE Systems transforms military aircraft product support with Teamcenter
New PLM model improves fleet availability and reliability while concurrently lowering total ownership costs
BAE Systems
The BAE Systems Military Air & Information business delivers advanced military air capability through major programs in the United Kingdom and numerous countries globally.
https://www.baesystems.com/en/home
Headquarters:

Warton, United Kingdom

Products:

Teamcenter

Industry Sector:

Aerospace & defense
Establishing an "Availability Service" for customers
BAE Systems develops, delivers and supports advanced defense and aerospace systems in the air, on land and at sea. The third-largest global defense company, BAE Systems has major operations across five continents, with customers and partners in more than 100 countries. The company's Military Air & Information (MAI) business focuses on combat aircraft, jet trainers, reconnaissance aircraft and unmanned aerial vehicles; and provides development, training, repair and maintenance for aircraft such as the Hawk trainer, the Tornado and the Typhoon.
With globally dispersed design and support teams, complex products and the gradual move to an Availability Service business model, MAI provides configuration-driven, through-life upgrade, maintenance, repair and overhaul (MRO) support in addition to design and delivery of aircraft.
The entire lifecycle of an aircraft can be up to 50 years. That's why MAI employs product lifecycle management (PLM) technology from Siemens Digital Industries Software. Specifically, MAI utilizes Teamcenter® software to manage product configuration and design definition, and the through-life support definition. "We were looking for a PLM solution that would support our new business model to provide an Availability Service, and a migration path for our existing design and manufacturing data model," notes Ian Foulkes, manager of the IM&T (Information Management & Technology) Program for Combat Air at BAE Systems Military Air & Information business. "Only Teamcenter offered the breadth and level of capability we were looking for."
Additional insight is provided by Dave Wood, who is responsible for the PLM Technical Program, Combat Air, at BAE Systems Military Air & Information: "Many engineering systems focus primarily on design and manufacturing, which is essentially the standard product as it is delivered to the customer. We needed a solution that would enable us to track everything that happens to an aircraft once it is in active service. Teamcenter was chosen after a full vendor selection process, because it provided better support for the whole lifecycle. In particular, it matched our priority requirements, which were for enterprise knowledge management; technical and logistics support; a maintenance, repair and overhaul solution; reporting and business analytics, plus community collaboration."
A successful implementation partnership
The majority of the development phase was conducted in 2008 and 2009. Legacy information, consisting of over one million documents and one million parts, was migrated into Teamcenter, and a joint team comprising Siemens Digital Industries Software, BAE Systems and CSC undertook customization, configuration and integration, to provide BAE Systems with the overall PLM process and toolset capability that was required.
The three-way partnership between BAE Systems, Siemens Digital Industries Software and CSC allowed each organization to bring its respective strengths to the overall solution. BAE Systems provided the business context and successful adoption, Siemens Digital Industries Software brought best-in-class software and implementation, and CSC designed and implemented a groundbreaking high-availability architecture for this solution, which was the first of its type to go into production anywhere in the world. Siemens Digital Industries Software has a long-standing alliance partnership with CSC, fostering a strong and effective working relationship.
Siddeek Adam, PLM project manager at BAE Systems Military Air & Information, notes, "The relationship with Siemens Digital Industries Software and CSC was absolutely critical. They really worked with us like partners rather than suppliers. To support us, they had to understand what the real challenges were and what the real difficulties were. They understood that our success, BAE System's success, was the partners' success as well."
The new system went live in January 2010 and the partnership with Siemens Digital Industries Software and CSC included the handover of maintenance and support for Teamcenter to MAI, which had taken on full responsibility for the solution by the middle of that year. "We have standard maintenance and support on our licenses with some flexibility to move licenses around and the opportunity to upgrade as we need to," explains Wood.
"After the project was completed, BAE became self-sufficient in the support of the customized and integrated system," says Wood. "On previous deployments, because of the complexity of the application, we've been very reliant on the vendor. The ability for BAE to support the system once the Siemens Digital Industries Software's consultants left has reduced the through-life cost of supporting the application by 20 to 30 percent."
Teamcenter is in use across several areas within MAI, including the Typhoon, F35 and unmanned aircraft systems (UAS) programs. It provides a single source of product and process knowledge, managing data from many different applications, including the design files of CATIA® software. Teamcenter is used to manage bills of materials (BOMs) and aircraft configurations as well. One important benefit is that Teamcenter can be deployed extremely quickly. For example, one UAS program, which had no legacy data, was up and running in Teamcenter within 12 weeks.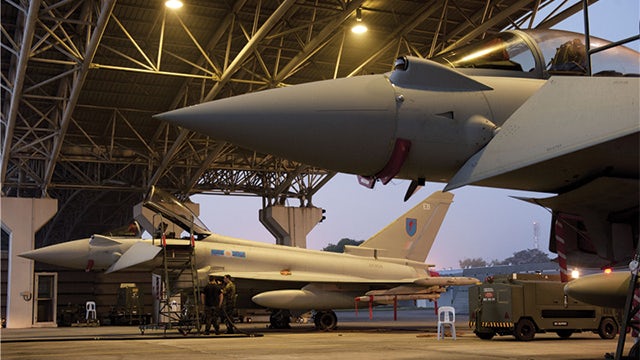 Recording individual life histories
According to Wood, use of Teamcenter has given MAI predictability. "It is critical that the product configuration is correct, and everything fits together; that is the core element related to the aircraft. We are always working to a specification: customers state the functionality they want to achieve; BAE Systems turns that into a design definition and use of Teamcenter ensures that everyone meets the definition by maintaining a consistent set of information for each product. All the information relating to a single product is held in one place, including configuration management and engineering change orders."
When BAE Systems delivers an aircraft, it also hands over a dataset, which is an engineering support system designed to enable customers to carry out regular servicing. Under availability contracts, BAE provides additional "depth" maintenance plus any upgrading and, after each interaction, the engineering support system is updated. For BAE Systems, the difference between planned design and actual product structure is important.
Wood explains, "We are talking about the difference between the paper definition and the real-life situation. It is critical that we maintain a record of product configuration so that, for every part, we can document any deviation from original intent and keep that log up-to-date. That is what our use of Teamcenter delivers – the ability to maintain the life history of each and every part and the ongoing relationship of BAE with the customer."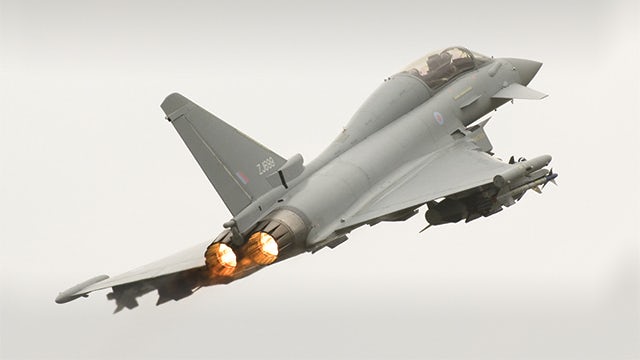 Automating compliance
BAE Systems used Teamcenter extensively to define and code the workflows that control the product lifecycle. According to Wood, the ability to embed end-to-end processes into workflows and integrate other applications through that process has been critical to the success of the implementation. Workflows control internal collaboration and everything that makes up the product definition, and this gives consistency of output and data integrity in terms of the relationship between items within the structure of a product.
"There are certain rules to be followed to ensure correct configuration, and there is no scope to do anything outside of the 'right' way," says Wood. "For example, when designers send data to manufacturing, it is the workflow that is used to manage the information being passed over, and this has raised overall data quality. There is less ambiguity, and manufacturing has reported that, prior to production, there are fewer queries to resolve, fewer checks to make and much less rework. This has a beneficial knock-on effect into other systems and has increased overall efficiency."
Workflows are also used to manage supplier information and customer requests. For example, when BAE Systems receives a technical query, it is automatically routed to the relevant business area and the appropriate specialist. "We can easily track the progress of the response, and then route it back to the customer," says Wood.
For BAE Systems, the ability to provide through-life support covering design, build, maintenance and technical documentation was the overall driver. MAI has now reached the stage where aircraft ground equipment such as ladders, power units and special tools are managed with Teamcenter. The vision is to continue extending the use of Teamcenter so that the entire product dataset, including spares and the schedule of tasks associated with maintenance of the product, are covered. "Much of this information has been in various places," explains Wood. "Our journey with Teamcenter has been to bring it all together for current programs, such as the Typhoon jet, which went fully operational in 2005 and is in service in Britain, Spain, Italy, Germany, Austria and Saudi Arabia."
Wood concludes, "The implementation of Teamcenter has secured access to our critical data for the next 25 years and given us a business and engineering improvement path. We now have a tool that manages product definition, in-service configuration and lifetime support, whilst reports from Teamcenter enable us to track progress and analyze our effectiveness. This is true enterprise knowledge management."