Case Study
Aztech Engineering improves collaboration with automotive OEMs using Siemens Solid Edge 3D CAD solutions
Dedicated translation tools improve design communication
Aztech Engineering
Aztech Engineering (UK) specializes in the custom design, development, manufacturing and maintenance of high-precision, special-purpose machinery and tooling. Operating in many sectors, including automotive, aerospace and commercial manufacturing, Aztech provides its customers with dependable, cost-effective solutions that combine outstanding performance with excellent value.
http://www.aztecheng.co.uk
Headquarters:

Barrowford, Lancashire, United Kingdom

Products:

Solid Edge

Industry Sector:

Automotive & transportation
It's not unusual for design service and manufacturing teams to receive computer- aided design (CAD) files in various formats. Tooling manufacturers like Aztech Engineering face challenges in utilizing complex design data from their customers that can be supplied in different CAD formats. The company specializes in the custom design, development, manufacturing and maintenance of high-precision, special-purpose machinery and tooling. With expertise in the automotive and motorsport sectors, Aztech Engineering provides custom equipment that processes a range of automotive components and assemblies from soft furnishings to door or instrument panels, to tier one automotive suppliers.
Aztech Engineering offers the full capability of hard wiring, control cabinet build and PLC programming to customer specifications. The company manufactures post-molding finishing and assembly/checking fixtures and machines, which are typically electro- pneumatic in nature and may include hydraulics or sensors for detection of part presence or even color verification. The output of the design process includes detailed drawings for manufacture and data exported for CNC machining.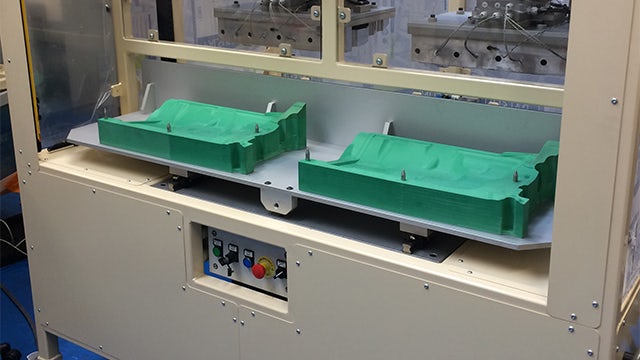 Supplying parts for the automotive industry has the typical challenges of quality, time to market and complexity. "Design complexity continues to increase," states Kevin Makin, general manager of Aztech Engineering. "The automotive sector wants more and more complex parts manufactured to the highest quality within the shortest lead time possible."
Often when designing tooling, Aztech receives CATIA™ 3D CAD files that must be translated into usable data. Implementing the source CAD system can be expensive, Makin says. "In addition to the initial license costs, there are ongoing maintenance costs, and it takes time to ramp up skill sets. We prefer to use CAD tools developed especially for our market rather than enterprise solutions."
When Aztech receives CATIA files, they are sent as complete assembly files which must be converted into usable data before they can begin their design process. Although the company has a variety of CAD packages at their disposal, Aztech considers Siemens Solid Edge® software to be their most powerful and versatile solution.
"We've been using Solid Edge for 20 years now, since we opened our business, and much preferred to continue using that solution if possible," says Chris Campbell, project manager at Aztech Engineering. "We investigated the ability of Solid Edge to import and work on CATIA files about seven years ago and discovered the Solid Edge CATIA translator tools. We are now using the Solid Edge CATIA V5 translator to open and interrogate files, and it works very smoothly. "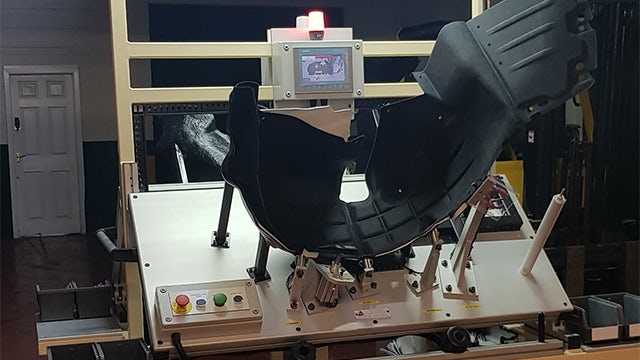 Solid Edge translation tools import 3D models and 2D drawings from other industry software, with dedicated migrator software for Solidworks®, Creo® and Inventor® CAD files. These migrators maintain rich model information and associated drawings during the conversion process.
With bidirectional capabilities, the Solid Edge CATIA V5 translator enables users to read in data and continue designing in Solid Edge, or to design parts or assemblies in Solid Edge and then translate data into the required CATIA V5 format. The translator supports single part files, or multiple bodies that can be opened into a Solid Edge assembly.
"With Solid Edge 3D design software, we can import a solid model and quickly construct the necessary tooling around it," said Campbell. "We can render a photore- alistic image of the tooling or machinery required for the project for customer review prior to manufacture."
Of course, things don't always go perfectly. A part can be made up of a mixture of solids, surfaces and other elements, and sometimes during translation, elements don't convert. However, "Solid Edge excels in this process, especially when it can be a complicated file construction with surface modeling," Campbell added. "The CATIA V5 Translator tools handle all the complexity easily."
Makin agrees. "We imported 677 CATIA parts into Solid Edge over a five-month period, veraging 120 files per month," he said. "We experienced about one file per month failing to import, resulting in a 99 percent success rate. And, failures are usually caused by issues in the design file itself, such as faces not meeting, which are resolved on receiving a new file from the customer." The user friendliness of the software has proved vital given the level of customization Aztech Engineering offers – customization that results in a huge number of design edits per machine.
"We like Solid Edge for the ease of use, leading to a quick ramp-up for engineers that are new to 3D CAD," says Campbell. "One of our young toolmakers was recently trained in Solid Edge and has taken to the tools really well. We love to see career progression such as this, where 3D CAD tools do not get in the way, but genuinely help engineers to be creative."