Case Study
German acoustic expert uses Siemens' solutions to enhance electrical and autonomous vehicle development
AZL deploys Simcenter to realize early system optimization in vehicle development cycle..
AZL
AZL develops and manufactures test benches, provides measurement analysis and conceptional dimensioning of vehicles, systems and components, all from one source. The company's business success rests on long-term investment, first-class test engineering and their employees' technical training.
https://www.akustikzentrum.com/en/
Headquarters:

Lenting , Germany

Products:

Simcenter Products, SCADAS System, Simcenter Testlab

Industry Sector:

Automotive & transportation
Addressing emerging NVH challenges
AZL, a German acoustic test bench manufacturer and engineering consultant serving the automotive industry since 1999, recognizes the ongoing challenges related to electrical vehicle (EV) and autonomous vehicle (AV) development. To tackle the new noise, vibration, and harshness (NVH) development needs, AZL is implementing innovative technologies such as component-based transfer path analysis (TPA) and model-based system testing (MBST).
With these technologies in place, AZL builds special test benches addressing emerging NVH challenges to provide their customers with innovative testing procedures resulting in information outlining how to optimize the AV and EV NVH performance in much earlier development stages.
Emerging NVH challenges in AV and EV development
According to Andreas Schilp, managing director, AZL-Technology Center GmbH, the development of AV and EV brings three main challenges and opportunities into play:
First, high frequency structure born noise becomes more important with EV, meaning that bushings and mounts need to be developed with the proper stiffness characteristics in this frequency range. New test benches that can handle this need to be developed.
Second, as the combustion engine, a very important masking source at low speeds, has disappeared, the structure born road noise is significantly more apparent. Due to that, the development of good suspension systems is a high priority for customers. AZL is active in the development of the right test benches to better cope with road noise and strives to acquire the necessary data to validate simulation models. The company also develops tests not only on the full vehicle level but also for the isolated suspension system levels, such as testing only a front or rear suspension system separately on the chassis dyno.
Finally, AZL is exploring options to transfer these component and system test results into the simulation world as part of the product's digital twin. To achieve an accurate digital twin, the simulation model needs to be fed with accurate data.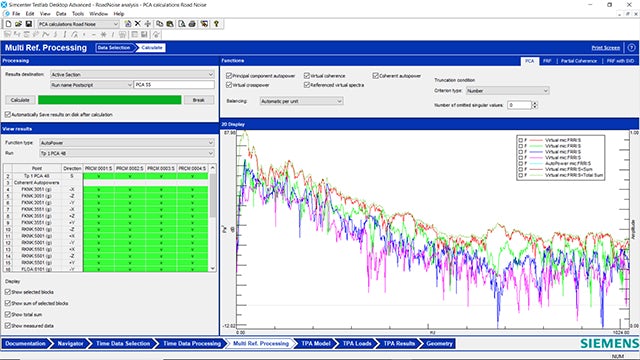 Next generation vehicles require new development processes
The concept of a digital twin goes hand-inhand with the growing trend in the industry. Instead of testing the final full vehicle, physical testing takes place earlier on the system and component levels. This approach can significantly shorten the vehicle development cycle as it affects the AV's and EV's producers, who are pushed to re-think and innovate the development process.
"For EV development, we try to step back from full vehicle level development and intensify our focus on the system and component levels; the same is true for optimized development cycles due to the new homologation processes," says Schilp.
In the best-case scenario, the development starts with setting up simulation models. AZL builds special test bench capable of testing NVH on the component and system levels with carefully described boundary conditions. "As a test-bench manufacturer we provide our customers with clear guidance," says Schilp.
To accurately acquire the test bench data, AZL relies on Siemens Digital Industries Software solutions Simcenter™ Testlab™ software in conjunction with Simcenter™ SCADAS hardware, which is compatible with a wide range of sensors and data interfaces.
"What makes the Simcenter portfolio unique is that it imbeds a close integration of test results with simulation results to compare them directly in exactly the same environment," says Schilp.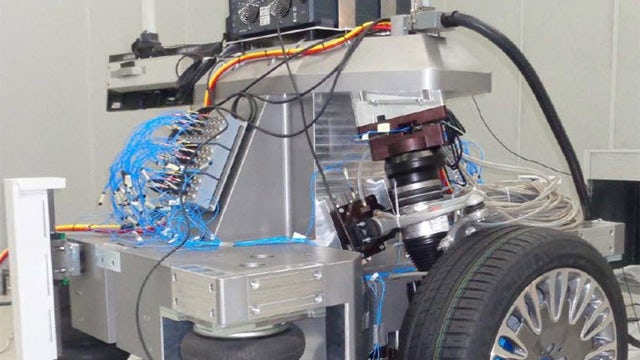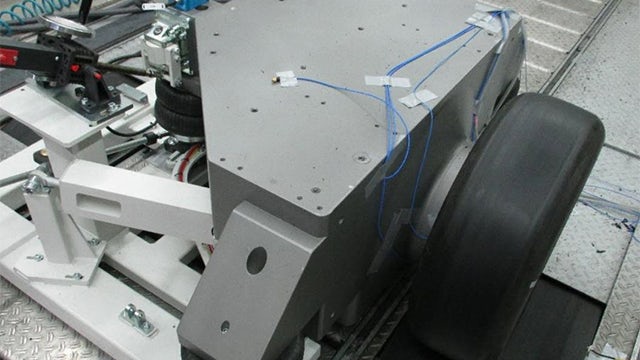 Block forces in the NVH vehicle development
The rising trend towards system-based development sparks a new technique named component-based TPA. TPA consists of the assessment of blocked forces (and moments) as a characterization of the system.
"The importance of blocked forces in our development is that it allows you to split systems from each other," says Schilp. "We have to split them in terms of interacting forces and interacting moments. These interacting forces are not invariant and depend on the full assembly, while the blocked forces are characterizing the system itself."
Having a characterization of the systems that is independent from the later integration opens great potential in the automotive original equipment manufacturer (OEM)-supplier trade relationship.
"With the 'blocked forces' approach, you don't have to first integrate the component in the full vehicle and then make your supplier responsible for something that is the outcome of the full vehicle," says Schilp. "But you can make the supplier responsible for his system and make him test his component directly."
AZL helps its customers to develop the right test benches that allow them to accurately identify the blocked forces. All of this is an important step to achieve the ultimate goal, which is to pave the way for virtual vehicle assembly.
"The ability to calculate interface forces from the blocked forces is one of the building blocks which enable virtual vehicle assembly," says Schilp. "With this, you could have simulation or test results with blocked forces of systems and combine them together to predict the performance of a virtual vehicle. I believe that with the right hybrid simulation process and reliable test results on system level in place, you can achieve a robust system of downcascaded objectives certainly for the lower frequency range, up to 500 hertz. And in reverse, if you integrate them up, you will achieve a high prediction quality of your virtual prototype."
The process for component-based TPA is fully supported with Simcenter Testlab software and the Simcenter SCADAS data acquisition system. It provides an integrated solution for optimal measurement quality of operational and frequency response function (FRF) data and a workflow-oriented analysis tool. This capability helps users to determine blocked forces, convert them into interface forces and make target prediction in a very fast and efficient way.
In demanding applications like component-based TPA data, consistency is essential, Productivity-enhancing features have been added like the matrix heatmap which allows users to interpret large datasets in a single click. The display permits instant verification of the data quality and provides tremendous insight into the vibro-acoustic behavior of the different components. Furthermore, the user has many integrated functionalities to verify inconsistencies in the data such as direction errors and reciprocity problems.
Component-based TPA and the conversion of blocked forces into interface forces is fully supported in Simcenter Testlab.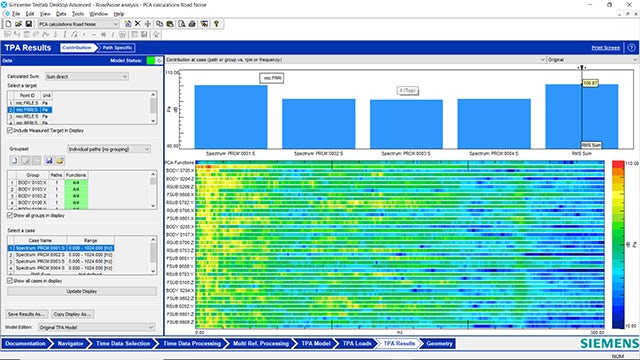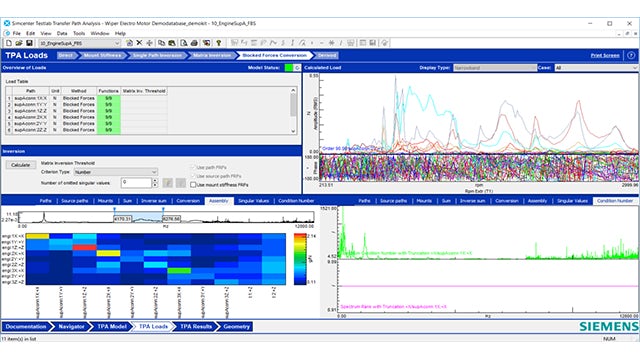 Mastering the road noise
AZL provides an optimized testing environment by developing customized chassis dynamometers with variable surfaces. Additional test rigs called AZL suspension and tire force rigs make it possible to test full vehicles, front and rear suspensions and tire-rim combinations on exactly the same excitations. So, the V-model approach is brought to life in a very reproducible environment.
Based on an optimum database of measurement data, test-validated models provide a robust environment for further virtual vehicle development.