Case Study
Better equipment for economically and ecologically sustainable precision farming created faster
APV secures market-leading position using Solid Edge to efficiently develop mechatronic systems for resource-saving agriculture
APV Technische Produkte
APV Technische Produkte GmbH develops and manufactures innovative farming and gardening equipment. APV is also a leading producer of equipment for the precise, well-targeted spreading of seed, fertilizer and plant protection agents as well as machinery for careful, ecologically sustainable agricultural soil cultivation.
https://www.apv.at/
Headquarters:

Hötzelsdorf, Austria

Products:

Solid Edge

Industry Sector:

Heavy equipment
Precision in agricultural production
High efficiency and the conservation of natural resources are prime issues in agriculture. A fierce global competition for price-sensitive consumers and their growing ecological awareness results in increasingly tight calculations and the going-green of agricultural production.
These issues force farmers to increase their production efficiency while at the same time conserving natural resources in the interest of sustainability. To achieve these goals, they ramp up tilling precision and sowing, fertilizing and crop protection accuracy. Upon preparing an optimal seedbed using various tilling implements, they apply a precisely predefined number of seeds per square meter with regular spacing. With similar accuracy and therefore economy, they dispense fertilizers or plant protecting agents such as slug pellets.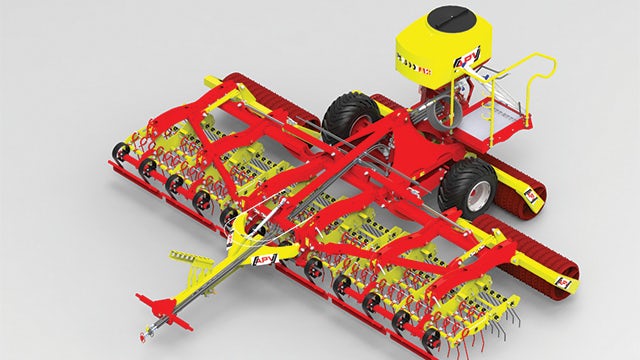 APV engineers use Solid Edge not only for 3D modeling of structural, sheet metal and plastic mechanical parts, but also for creating hydraulic and electronic schematics as well as the cable harnesses of the complex mechatronic equipment. The image shows APV's top model, the GP 1600.
Solutions for small and mid-sized applications
While many prominent manufacturers of agricultural equipment have been offering innovative solutions suitable for large-scale agricultural operations for some time, the choice for small-scale operations such as grassland care or catch crop cultivation was less than satisfying. APV Technische Produkte (APV), based at Hötzelsdorf in northern Austria, develops and manufactures systems that dispense smaller seeds, granular fertilizers and plant protecting agents, precisely directed and dosed. These systems include disc and air spreaders as well as harrows and rollers for tilling. For intense grassland care, APV offers harrows, rollers and spreaders combined into compact units carrying the brand name Grünlandprofi (Grassland Pro).
"Tightly focusing on these systems and integrating customer services with design work for requirements definition and testing, APV developed into one of the leading suppliers in this segment," says Gregor Witzmann, technical director of APV. "We owe our annual double-digit growth in revenues to our easy-to-handle, innovative products. Adapted to marketspecific requirements, we supply farmers through a global sales network as well as leading international OEMs."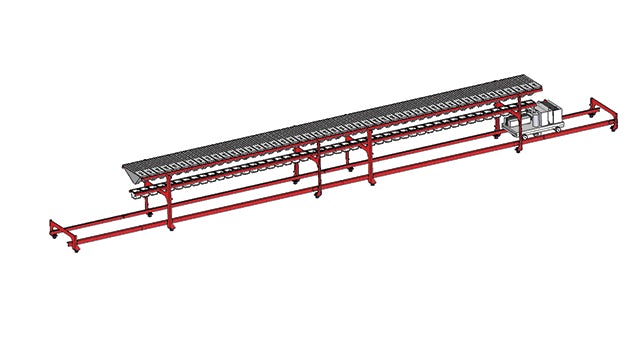 APV engineers also use Solid Edge to design fixtures and testing devices such as this lateral distribution test bed.
One software product for all disciplines
APV products comprise mechanical, hydraulic, pneumatic and electronic parts and subsystems as well as software, including a large number of sensors, which make them classic examples of mechatronic products. APV engineers develop all products as well as the equipment used for testing entirely in-house. The team of 16 has been using Solid Edge® software from product lifecycle management (PLM) specialist Siemens Digital Industries Software for development since 2003.
"We are using Solid Edge for all aspects of product development, starting at concept design," explains Witzmann. "Besides the 3D modeling of structural, sheet metal and plastic mechanical parts, this includes creating hydraulic and electronic schematics as well as the often very complex cable harnesses."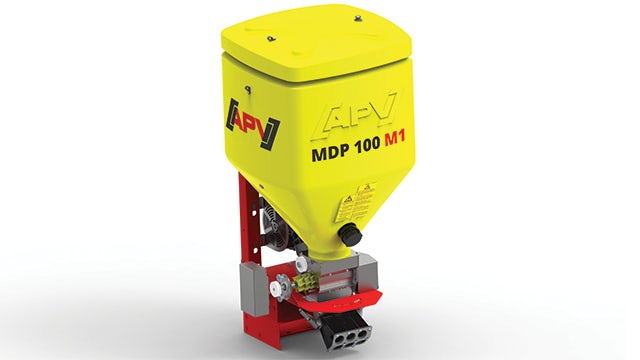 APV engineers create PDF files with 3D models from Solid Edge. They are used by production planners for assembly work and by sales representatives to present and explain all aspects of the equipment.
From design to documentation
APV development engineers also use Solid Edge to generate exploded-view drawings for spare part catalogs and user manuals. The same is true for photorealistic renderings used in sales documentation and proposals. "Even more important, though, are PDF documents with embedded 3D models," says Witzmann. "They are equally popular with production planners for assembly work and with sales representatives, who use them to present and explain all aspects of our products to prospects." These "living" files are created in the shape of a complete set of manufacturing documents using an add-on module for Solid Edge from Wolfgang Hackl who services APV as a Siemens Digital Industries Software sales partner.
APV and Hackl also cooperated to create a bi-directional interface between Solid Edge and the enterprise resource planning (ERP) system APV uses. It allows the two software systems and consequently the technical and administrative departments to exchange item data and bills of material. "The interface to the ERP system has paid for itself quickly as it eliminates problems such as duplicates," Witzmann says.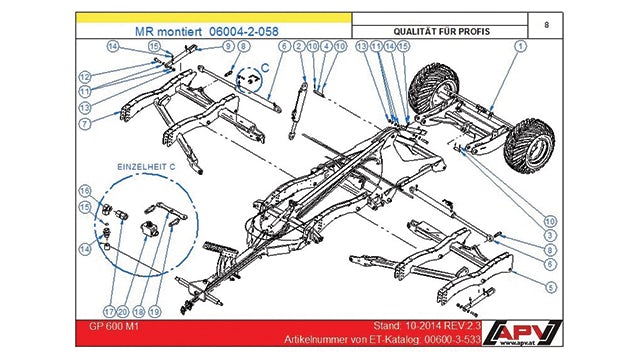 The APV development engineers also use Solid Edge to generate exploded-view drawings for spare part catalogs and user manuals.
Fast and certain with synchronous technology
APV products are used in conjunction with agricultural machinery and equipment from other manufacturers with which they must be compatible. This is one of the reasons why APV engineers frequently need to import data generated using third-party computer aided design (CAD) software. Using Solid Edge with synchronous technology greatly simplifies this task.
"Synchronous technology gave Solid Edge an enormous boost in usability," says Witzmann. "It made the software even easier to comprehend. Thirteen-year-old students from local junior high schools spending a try-out day at our facilities for job orientation are usually able to create simple designs all by themselves by early afternoon." Some of them return to APV to do apprenticeships as CAD designers.
APV engineers also use synchronous technology to considerably accelerate the completion of their work. Witzmann explains, "Throughout APV, our work is generally platform-oriented. We find the functionality Solid Edge provides for the simple re-use of existing designs is very helpful. It facilitates implementation periods of just a few weeks for entire projects. We realized product optimizations touching only a small number of assemblies from the first idea to the successful field application in a matter of days."
To avoid any errors that may result from coordinating projects at such a fast pace, APV is using the integrated revision manager for seamless revision management.
Further software upgrading planned
APV is not big enough yet to maintain its own team of simulation engineers for scientific structural testing. "Although we are developing the required skills in-house as well, we usually fall back on the services provided by an external software partner," Witzmann points out. "Generally speaking, simulation and virtual design verification are rapidly gaining significance."
APV engineers are intensely utilizing the simulation capabilities provided by Solid Edge for overlap and collision analyses already. Similarly, product weights are not determined by weighing during production. Rather, Solid Edge calculates them based on the stored material and geometry data.
"Universally deployable and simple to administer, Solid Edge is just what a small business like APV needs," says Witzmann. "The software helps us transform innovations to products quickly and with assured results, helping our company play a leading role in the global agricultural equipment market."