Case Study
Simcenter virtualization tools deliver engineering services provider with competitive advantage for full-vehicle system integration
Siemens solutions help Applus IDIADA gain efficiency assessing performance and predicting system interactions
Applus IDIADA
Applus IDIADA is a global partner with over 30 years' experience supporting its clients in product development activities by providing design, engineering, testing and homologation services. Applus IDIADA's success in product development is built on a unique blend of highly experienced engineers, state-of-the-art test and development facilities and the constant drive toward innovation.
http://www.applusidiada.com/global/en
Headquarters:

Santa Oliva, Spain

Products:

Simcenter Products, Simcenter Amesim

Industry Sector:

Automotive & transportation
Meeting stricter standards and requirements
Today, the automotive industry is confronted with a disruptive market with many challenges. Technological trends such as autonomous driving, electrification, connectivity and the demand for greater personalization are big challenges to tackle in increasingly shorter periods to stay competitive. Adding to the cost-cutting pressure, original equipment manufacturers (OEMs) and suppliers must comply with more strict standards and regulatory requirements.
As we move into the future, this trend represents an increasing threat to the operating profits of the automotive industry. Embracing greater collaboration across the automotive development value chain will be key, opening great opportunities for fast adapters.
OEMs dedicate a big part of their capital expenditure and resources to meeting the new market expectations. As these expectations evolve at an unprecedented pace, they are being pushed to rely on engineering service providers to integrate some of these new features, as well as commissioning special development activities, which they would have never had to deal with in the past.
Applus IDIADA is well known for their testing capabilities across the world and is a reliable testing partner, especially for full-vehicle validation.
The industry's trend toward digitalization, which entails reducing physical testing and relying on system simulation, presents a great opportunity for Applus IDIADA.
Placed at the end of a long chain of development phases, physical testing is an expensive activity. Now that both software and computational capabilities allow simulation results to be more trustworthy than 10 years ago, model-based development is helping to reduce cost in the last phase of vehicle development by shifting the balance from testing to simulation.
Applus IDIADA has positioned itself as a global partner for the automotive industry and covers all stages of development, from concept design to physical validation and certification. Applus IDIADA supports OEMs all around the globe from initial concept development phases in which systems need to pre-size performance targets to the end of the development cycle for the final physical validation.
The current context and trend have opened a great opportunity to blend testing with simulation and engineering services. This complementary offer quickly appeared to be a real competitive advantage. However, Applus IDIADA's position in the automotive value chain also requires it to be extremely flexible and use all of their capabilities. This is also a key attribute for competitiveness in this sector.
Consequently, Applus IDIADA's challenges reside in jointly putting all the know-how required to provide additional value to the customer. Focusing on one system at a time and solely delivering testing results is no longer a successful value proposition. Customers expect a deep understanding of the integration and interactions between different systems, which requires different disciplines to be put together to work on common projects.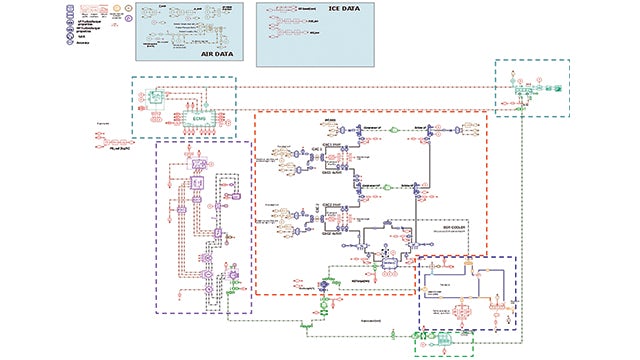 Using Simcenter tools for full-vehicle system integration
With their significant experience in the industry, Applus IDIADA developed a code able to predict different performances of the vehicle at high level, but it was not flexible or detailed enough to cope with new requirements. Extending the application of Siemens Digital Industries Software's Simcenter™ software products to all vehicle systems was a positive change, helping them to better connect root-cause analysis for different parts of the vehicle.
Simcenter solutions are also used to transfer more business towards digitalization and virtual simulation and position the company as a 360-degree development partner, which goes beyond testing. Today, around 50 percent of their employees are dedicated to simulation-based engineering services, complementing the testing activities.
Applus IDIADA included multiphysics simulation in some departments within their powertrain division a few years ago and is putting these multiphysics simulation capabilities to work to make them more homogeneous and extend them across different activities.
To address their customers' expectations, Applus IDIADA has developed a fully-integrated hybrid/electric vehicle (HEV) platform with detailed powertrain models, which can be easily adapted to pre-size new systems or predict the performance and energy consumption of new components.
Thanks to the knowledge acquired during this complete HEV powertrain integration, Applus IDIADA can tackle system and full-vehicle level development activities, which is where their competitive advantage lies, resulting from more than 25 years of testing and simulation experience.
"It doesn't only answer one specific question, but instead it helps us provide general answers to system performance and the interaction between different components in the vehicle," explains Guillem Badia, project manager, powertrain innovation at Applus IDIADA.
This kind of tool allows them to reach reasonable results that can guide their development with little effort and fast time-to-market. The objective is to have a tool that can provide some guidance from a full vehicle vision, or a clearer view of specific systems, all from an integration perspective.
Their testing activities give them the understanding of the vehicle operation. So, they use system simulation in combination with physical testing to support their customers across the complete development cycle, including pre-feasibility, sizing, optimization, components selection and validation and even calibration.
Typically, at the initial stages of a product's development, a lot of data is just not available yet. Such extensive testing experience is a great advantage when it comes time to move to simulation, as it provides knowledge of what kind of data will be needed, and which directions should be taken, depending on the performance requirement.
When assessing simulation results, it proves to be useful to determine if the results are consistent or some data is still missing. "The Simcenter Amesim platform facilitates this process," says Alex Marcello, powertrain integration project manager.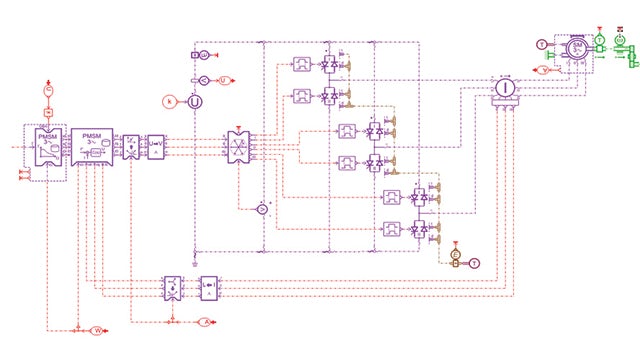 Bridging several tools
For Applus IDIADA, offering testing programs is not enough to identify latent effects appearing due to the interaction of different systems in the vehicle. Some measurements can be expensive and may not provide the full picture. Support of system simulation is essential to uncover hidden interactions and provide valuable information to define the most efficient testing plan. Correlating results from complex system modeling or fast running simplified ones is key to achieving more accurate predictive results.
As the complexity in the vehicles increases, so does the test plans to validate or develop all systems, which significantly increases costs. Complementing testing with multiphysics simulation can help shrink the number of tests needed and provide a general view of the vehicle's correct performance early on. "To help understanding the readings, or to help identify which interactions are desired and which engineering action should be taken, it's crucial to have this kind of system simulation alongside testing," Badia says. Working with data sourced from both methods at the same time is a good approach at any phase of development, especially when some detailed data is still not available.
"Simcenter solutions are a bridge between our two major capabilities: testing and know-how at the system level," says Badia. "It's a dashboard we use to see that everything is going as expected, and it's a tool we use to provide our best educated assumptions when developing systems or adjusting them for customers. Simcenter is a key tool in our value proposition."
Applus IDIADA offers a broad service portfolio and therefore deals with many kinds of projects; some involve testing and others do not. Different teams are using Simcenter products for many applications: aerodynamics, noise, vibration and harshness (NVH), energy consumption, durability testing and structural analysis.
"I started using Simcenter Amesim at university," declares Marcello. "For me, it's more than just a tool. It's part of my method because I started using it at a really early stage of my professional career and so it followed me everywhere."
Simcenter Amesim is used to validate first assumptions when developing a system. Once more data is gathered from that system, the model is retrofitted. "Simcenter is a tool that guides us through correct development assumptions, and then allows us to fine-tune or calibrate systems when they are ready," Badia explains.
"The benefits of Simcenter solutions are calculation flexibility, accuracy and consistency of results given the right input," says Badia. "But what we value the most about Siemens is that each kind of software we acquire for a specific question is part of a large suite of software that communicates very easily with each other.
"This interaction between different disciplines of physics at different stages in the development phase is something that we really value."
By achieving greater collaboration across the entire automotive development value chain, they can now look at new paths to create sustainable value creation. "Our next steps in system development includes full-vehicle 1D models in co-simulation with special software to predict the interaction of all systems and physics in the vehicle to guide our 360-degree development services in a more efficient way," Badia says.
To address the increasing significance of the interaction of energy consuming systems in the vehicle, Applus IDIADA will use the same full-vehicle models to develop, with simulation-intensive processes, holistic control strategies for a wide range of vehicle systems. The objective is to maximize energy efficiency, from heating, ventilation and air conditioning (HVAC) and comfort systems to shifting logic and everything in between.
From control development and hardwarein-the-loop (HiL) to full-vehicle assessment and virtual simulator, they are willing to complement their testing capabilities and estimate beyond the measurable.