Case Study
PLM Components help deliver state-of-the-art design capabilities to Altair Inspire customers
Leading supplier of simulation-driven design chooses Parasolid and D-Cubed components
Altair
Altair's comprehensive, openarchitecture solutions for data analytics, simulation, and high-performance computing (HPC) enable design and optimization for high-performance, innovative and sustainable products and processes in an increasingly connected world.
https://www.altair.com/
Headquarters:

Troy, Michigan, United States

Products:

Parasolid, D-Cubed, PLM Components
Simulation-driven innovation
Altair is a global technology company that provides solutions in data analytics, simulation, and high-performance computing. Headquartered in Troy, Michigan, Altair serves its global customer base through 83 regional offices and a global network of sales teams and technology partners.
Altair's simulation-driven approach to innovation optimizes design performance across multiple disciplines encompassing structures, motion, fluids, thermal management, electromagnetics, system modeling, and embedded systems, while also providing data analytics and true-to-life visualization and rendering.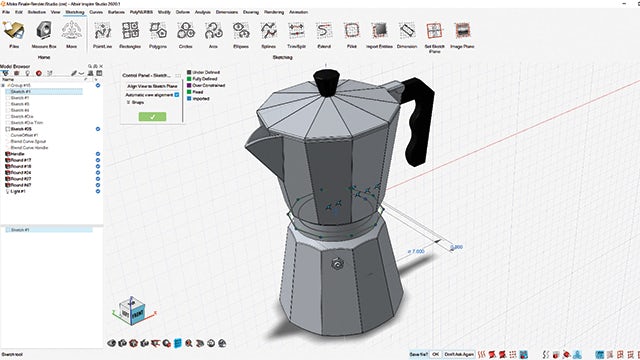 Mix-and-match 3D modeling in a single intuitive application
Altair recognized that a leading simulation-driven design application needs to offer a comprehensive geometric modeler to capture the diversity of form in manufactured products across a broad range of industries, and the range of preferred methods used in their design. At the same time, the modeling tools need to be intuitive enough for design engineers to master quickly and easily.
Altair selected the Parasolid® software geometric modeler, part of the Siemens Xcelerator business platform of software, hardware and services, because it offers Altair Inspire™ users the widest array of 3D modeling capabilities available. Users develop models quickly and easily by taking advantage of Parasolid's extensive mechanical CAD modeling functions, such as adding, subtracting, intersecting, hollowing, tapering and blending solid geometry.
Engineers can intuitively fashion complex organic shapes with non-uniform rational b-spline (NURBS) surfaces created along user-defined guide curves or automatically fitted between existing surfaces. In both cases, Inspire users benefit from full control over the shape using visual controls or precise numeric constraints, for example by constraining the degree of continuity between adjacent surfaces.
Defeaturing for structural analysis and topology optimization
Structural analysis and topology optimization are core components of Altair Inspire that enable users to create more efficient designs and reduce costs. Topology optimization automatically computes an ideal shape for the structure in a design space that optimizes for properties such mass or stiffness under user-defined loading conditions.
The original geometric model that is subject to analysis and optimization may include features such as holes, pockets and blends, added by the designer using conventional interactive modeling techniques. Engineers often remove such features prior to analysis and optimization to improve performance. Altair uses Parasolid to support this defeaturing operation with an extensive set of model simplification tools that identify and delete specific features in a model prior to analysis.
Altair also implemented direct modeling, a more recent and advanced editing technique developed in Parasolid. Direct modeling enables Inspire users to push and pull faces interactively. This capability can be used, for example, to modify the design space that is subject to analysis and optimization.
The results of topology optimization are usually organic shapes that often bear little resemblance to the original CAD geometry. In cases where such shapes are not aesthetically pleasing or suited to manufacturing methods, Altair users can leverage advanced surface modeling capabilities in Parasolid to wrap these complex shapes in NURBS surfaces to create smooth 3D solids that are suitable for export to downstream applications.
"Parasolid has proven to be remarkably effective in meeting our needs to offer advanced capabilities like direct modeling and surfacing control in our mix-and-match modeling environment," says James Dagg, chief technology officer at Altair.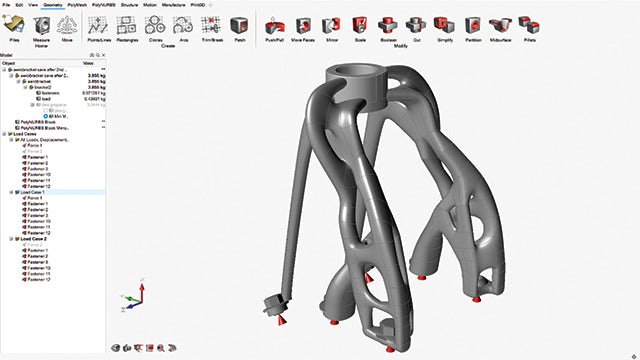 Parametric 2D sketching
Sketching is fundamental to one of the most universal 3D modeling techniques in CAD, whereby a 2D sketch is extruded or revolved out of its plane to create 3D geometry. The underlying sketch can be defined very precisely using a geometric constraint solver. Designers apply geometric constraints – such as parallel, perpendicular, tangent and symmetric – to organize the sketch geometry, which may consist of lines, arcs and more complex curves. Furthermore, when quantitative parameters such as distances, angles, and radii are applied to the sketch geometry, it is possible to remodel the 3D part by editing the parameters in the underlying sketch and regenerating the 3D solid.
To implement this powerful design technique, Altair needed to complement Parasolid with a geometric constraint solver that would support parametric 2D sketching for its most demanding users, while generating stable and predictable outcomes when sketch parameters are added or modified. Realizing that such a technology requires specialist knowledge and many years of in-house software development, Altair chose instead to license the leading geometric constraint solver, D-Cubed™ software 2D Dimensional Constraint Manager (2D DCM) from Siemens Digital Industries Software.
Altair has taken advantage of a high proportion of the 2D DCM's feature set – including advanced functions such as constraint-based solving of NURBS curves, enabling Inspire users to benefit from state-of-the-art 2D sketching tools that are seamlessly integrated with the 3D modeling environment.
By licensing Parasolid and D-Cubed components to handle these sophisticated geometric modeling operations, Altair was able to allocate more of its own expertise and resources to developing an intuitive user experience. The result is a versatile design environment that can be mastered by design engineers in hours.
Parasolid interoperability and standardization
Altair Inspire is often used early in the product development lifecycle for conceptual modeling and optimization. Many models are developed from scratch using Inspire's broad suite of solid, surface and polygonal geometry creation tools. In addition, users may import models that have been developed in other CAD applications for further design optimization and analysis. In both cases, products that are designed or refined with Inspire are typically exported to other applications for additional analyses, manufacturing and other processes.
Altair realized that supporting the reliable exchange of 3D product data between applications would benefit from choosing a standard 3D modeling format that is common for the broadest possible range of product lifecycle applications. This is another reason why the company selected Parasolid, a geometric modeling technology and format that is shared by more than 350 software applications. In addition to choosing Parasolid for design functionality in Inspire, Altair chose to standardize on Parasolid for data interoperability across its portfolio of solutions.
"Licensing Parasolid has enabled Altair to offer exceptional data interoperability across the broad number of applications we have developed and acquired," says Dagg. "Parasolid enables products like Inspire to offer translation-free data exchange with Parasolid-based applications from other vendors, such as NX and SolidWorks."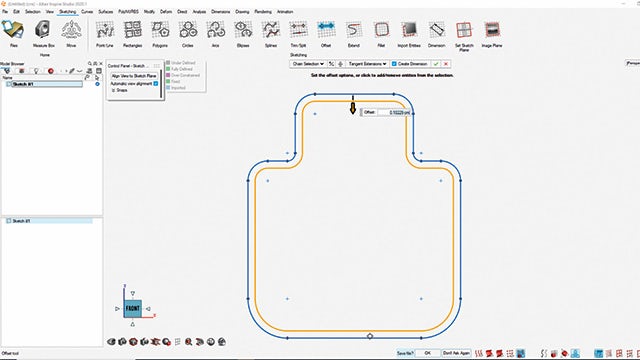 Looking ahead
Altair recently licensed an additional D-Cubed component, Profile Geometry Manager (PGM) that will soon be available to Inspire studio users. D-Cubed PGM enhances productivity in the 2D sketching environment by computing offset profiles that have numerous applications in design. For example, they can be used to create a 2D profile that extrudes into a solid shell or applied to the cross-section of a sheet metal structures to define a thickness.
Altair is also keeping a close eye on several recent advances in Parasolid. For example, Parasolid has recently implemented the functional foundations to support lattice structures. Lattices offer increased strength-to-weight ratio compared to solid material yet were difficult to manufacture prior to additive manufacturing techniques.
"3D printing is making the design benefits of lattice structures a reality," says Dagg. "Ongoing development of direct support for these data structures in Parasolid offers exciting future possibilities for software vendors like Altair who offer solutions for additive manufacturing."
Altair is also evaluating Parasolid Convergent Modeling™ technology, which gives designers and engineers the ability to perform design operations on models that mix boundary representation (B-rep) and polygonal geometry formats. B-rep models are 3D solids that are the basis for many design and engineering operations, where polygonal (facet) models are associated with 3D scanning, topology optimization, and 3D printing. By enabling modeling operations on any combinations of the two formats, Convergent Modeling offers some promising applications for the Inspire product line, which provides integrated solutions for design, topology optimization, and additive manufacturing.