Case Study
Specialist in turnkey cleanroom and process line solutions streamlines key processes with Solid Edge
Customization, programming and training prepare Airplan for future growth.
Airplan
Airplan provides consulting, design, engineering, and construction of integrated solutions for cleanroom installations and process lines. Founded in 1968, the company has developed 2,000 projects for more than 800 clients in some 40 countries, making it a leading company on an international scale.
http://www.airplan-sa.com
Headquarters:

Sant Fruitós de Bages, Barcelona, Spain

Products:

Solid Edge

Industry Sector:

Industrial machinery
A leading business in continuous growth
Airplan is a company that engineers, manufactures and installs cleanroom solutions and process lines for the life sciences industry. The company's products include modular cleanroom systems, air treatment solutions, process equipment for liquids, semi-solids, and solids (such as production vessels, translators, and fluid bed dryers), and engineering services. With a wide presence in the international market, its products are mainly aimed at the pharmaceutical, life sciences, food and chemical processing sectors. With headquarters in Sant Fruitós de Bages (Barcelona) and Miami (U.S.), Airplan also has representatives in Europe, South America, and North Africa. Its workforce includes approximately 80 employees.
Founded in 1968, the company develops two lines of business: cleanroom installations and process equipment. Airplan develops projects that are customized for individual customer requirements and delivers turnkey solutions that cover all phases, from prior assessment of viability, design engineering and construction of installations (including manufacturing of critical components, management of purchasing and implementation), through documentation, certification/validation and warranty.
For almost 50 years, Airplan has managed more than 2,000 projects under a stringent quality concept: custom-made solutions, delivered on time and within budget. This commitment, combined with high standards of engineering, has enabled Airplan to sustain continuous growth and become a leader in the industry.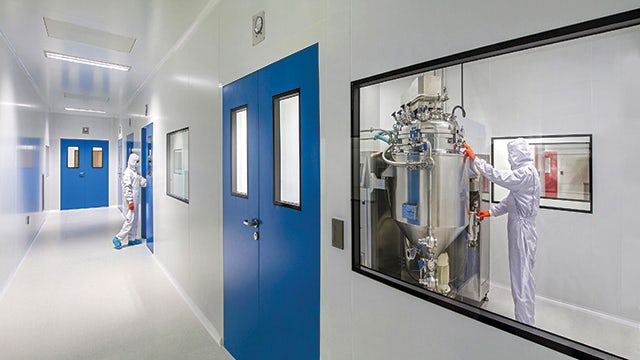 Rediscovering Solid Edge with Pixel Sistemas
Solid Edge® software from product lifecycle management (PLM) specialist Siemens Digital Industries Software has been an essential ally in Airplan's business success. The advanced 3D computer-aided design (CAD) features of Solid Edge have enabled the company to maintain the rapid pace of orders and adjust to the individual requirements of each client.
After using Solid Edge for 10 years, Airplan began a period of particular business momentum that challenged its capacity to respond to new market opportunities, and the company proposed to evaluate another CAD system.
When informed of Airplan's proposal in 2012, Siemens Digital Industries Software introduced its solution partner Pixel Sistemas to jointly review Airplan's use of Solid Edge and to optimize and align it with the company's needs to enable the business to grow. Pixel Sistemas is the leader in implementation and post-sales service of Solid Edge in Spain, with more than 800 clients and more than 3,000 licenses installed.
The professionals at Pixel Sistemas audited the range of processes in which Solid Edge was used, with the intent of improving and streamlining them. Pixel Sistemas proposed to parameterize and automate many tasks with programming to improve process efficiency. For example, in the technical division of installations, the heating, ventilation and air conditioning (HVAC) group were unable to meet the lead times required in orders. Pixel Sistemas devised a solution: generating automated macros that applied customer requirements to simplify processes and save considerable time. "Thanks to the joint work with Pixel to optimize the development of Solid Edge, we have managed to increase the productivity and quality of our products, with substantial savings in both time and money," says Jordi Ferreiro, technical director, installations at Airplan.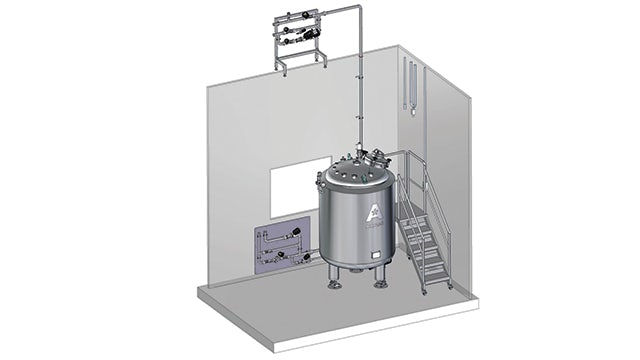 Fine-tuning Solid Edge for added productivity
In other instances, Pixel Sistemas helped improve productivity by demonstrating to the Airplan team the best-practice techniques for using Solid Edge. One example is with the Solid Edge XpresRoute piping design tool. Pixel Sistemas optimized the configuration of the piping libraries so that the Airplan team could quickly and efficiently model pipes for purified water. This capability helps Airplan to immediately initiate projects for new orders.
Another important improvement was the integration of Solid Edge with the company's enterprise resource planning (ERP) system. The Airplan information technology (IT) department collaborated with programmers from Pixel Sistemas to link the two systems, enabling the company to automatically share information from design engineering with manufacturing, sales, and other departments within the company.
Pixel Sistemas and Airplan further refined the system for future needs; one project integrated the general 3D CAD capabilities with application-specific tools for mechanical pipe routing and piping component libraries, simulation and computer-aided engineering (CAE), wire harness design and rendering/photorealistic visualization.
Capabilities that provide competitive advantages
Leveraging the thorough expertise of Pixel Sistemas, Airplan was able to verify that Solid Edge was the solution the company needed for further growth, and that best-practice CAD techniques could help Airplan derive maximum benefits from Solid Edge. The improvements in productivity that Airplan has achieved enable the company to deal with growing workloads much more effectively.
Airplan is conscious of the competitive advantage that the automation and optimization of processes carried out by Pixel Sistemas have gained for the company. Because the customized macros developed for Airplan incorporate the company's know-how and add significant engineering value, Airplan has sought exclusive use of them as a distinctive competitive advantage.
With the constant support of Pixel Sistemas' after-sales service, the company has improved the use of Solid Edge's critical capabilities, including synchronous technology. Engineers for both the cleanroom and process lines appreciate the flexibility of designing without history and being able to make fast modifications by simply stretching shapes using the wheel controller. This simplicity is also reflected in the user interface of Solid Edge, an intuitive environment that is easily mastered by designers who have no prior experience with Solid Edge.
In addition, the CAE simulation tool of Solid Edge, specifically finite element analysis, has also been very valuable in addressing complications when working on folded and curved sheets, and avoiding errors, lost time and subsequent costs.
Another notable aspect is the use of Solid Edge as a collaborative tool between different corporate departments outside of engineering. Areas such as quality, sales and marketing use videos and 3D visualizations generated in Solid Edge for other applications like assembly guides, pre-sales material, presentations to clients using mobile devices, or incorporating them into the corporate website.
The professionalism of Pixel Sistemas, together with their advanced expertise in Solid Edge implementation, support and flexible licensing, provide considerable savings in both time and cost. Airplan's product quality has improved, and Solid Edge has had a positive impact on the business as a whole, sustaining its continuous growth, boosting its corporate reputation and supporting its future evolution.
"The training that we received with Pixel Sistemas has been fundamental," says Jordi Martínez, head of the CAD department at Airplan. "We highly value the immediate technical assistance that they provide to us."
"For the technical division, Solid Edge is a very intuitive solution that greatly facilitates its work, above all thanks to synchronous technology," says Angel Serra, technical director, process at Airplan. "The materials created using Solid Edge are also used by other departments such as marketing, sales and manufacturing."