Case Study
Better production through digitalization
Opcenter Execution Process helps Agromillora track and trace 100 million plants yearly
Agromillora Group
Agromillora is a nursery dedicated to the production and commercialization of plants with the highest genetic and production quality, at both the national and international levels. Agromillora is the only global platform propagating woody species for agriculture, offering an ideal meeting place for the global community of breeders and producers.
https://www.agromillora.com/en-us/
Headquarters:

Barcelona, Spain

Products:

Opcenter, Opcenter Execution Process

Industry Sector:

Consumer products & retail
Agromillora improves tree and vine production through digitalization
For fruit and nut trees to produce in high volume and high quality takes special breeding and cultivation of each species and variety. It requires careful breeding of a hardy rootstock for these trees to endure season after season and makes possible very high-density production. Combining these characteristics in one plant is the business of the Agromillora Group, a worldwide leader in the nursery sector.
Founded in 1986 and known for its commitment to the highest genetic and health standards, Agromillora employs innovative processes, including in vitro micropropagation of plants, to supply over 100 million plants to its customers each year. With facilities on five continents, the Barcelona, Spain-based company has become the top supplier of propagation for woody species (trees and vines) in the global agricultural industry.
When growing millions of trees and vines from plant tissue cultures and then from the smallest of plant sizes, it is a challenge to keep track of species. "There are some species that are really complicated to differentiate when they are so tiny," says Jorge Cortijo, chief information officer (CIO) at Agromillora. "But we can't make a mistake because the customer is expecting a certain variety of plant, and there is a huge amount of variety with some species." Plant complexity and variation is further multiplied when Agromillora inserts a selected variety of plant into a different variety or species of rootstock to create a more productive, healthy and resistant plant.
Agromillora customers, which include growers and orchards, purchase tens of thousands of trees at a time. If a mistake is made, the loss to the customer may be twofold: first in the logistics and time spent replacing the trees delivered in error, and second – and more costly – the repercussions of planting and growing the wrong trees. "If the customer plants the trees in the field and realizes two years later, when the trees start providing fruit, that the fruit is not exactly the type the customer wanted the damage is very real – the number of trees, the time that this customer has lost, and the cost of growing trees," Cortijo explains. "So this is one of the things that is really, really important for us."
Tracking and tracing so many plants with the efficiency expected of today's producers clearly requires a digital solution, but what kind of digitalization meets the needs of such an unusual industry? Agromillora sought a manufacturing execution system (MES) that could meet the unique requirements of tree production. "We're not a normal factory," says Laura Graells, information technology (IT) project manager at Agromillora. "We produce plants; it's a very different type of activity." Starting with Opcenter Execution Process, Agromillora and its system integrator Oasys found a way to make digitalization work for the company.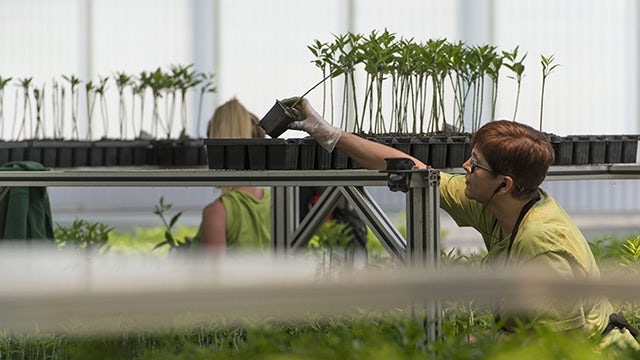 The challenge
Agromillora was motivated several years ago to begin the current phase of its digitalization journey involving MES. "We started to understand that we needed better control of our production to ensure that all the plants we produced were exactly what we expected them to be," Cortijo recalls.
The company's existing production management system consisted of two controllers. But as Agromillora grew from a Spanish company to a multinational corporation with 10 subsidiaries, 628,000 square meters of greenhouses, and a business presence in 25 countries, operational demands quickly out-stripped the capacity of these controllers. "There was a very high risk of making mistakes," Cortijo says. "Also, the system did not have the capability to follow the performance of workers in the production chain." Knowing more about worker performance and knowing that the right plants of the right quality were making it to the right customers were the two primary objectives Agromillora established as the company sought the best digital solution for their operational needs.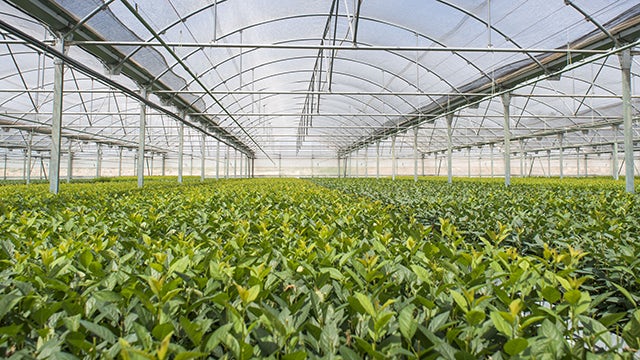 Finding the right manufacturing execution system for its unique "manufacturing" business was a big part of the challenge for Agromillora. "We started looking in the market to see if we could find any standard solution," Cortijo says, "but we found that our sector is very local; there is no company such as us, so big with so many different customers and a lot of different species being delivered around the world. There was no standard system that provided us the functionality that we wanted."
The company considered building its own solution but decided instead to start with a standard MES and then tailor it to their special needs.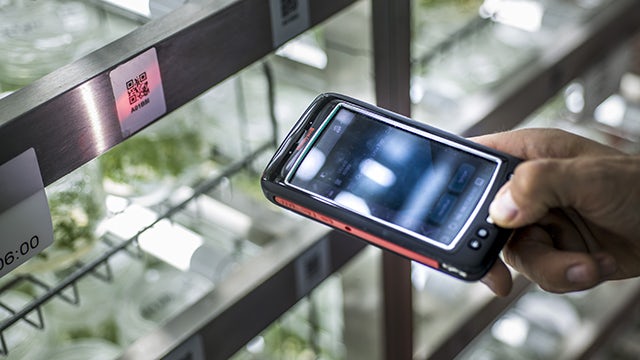 The solution
Agromillora selected Opcenter Execution Process because it offers a flexible platform on which to add the custom functionality needed for nursery operations. Opcenter Execution Process is designed for consumer packaged goods (CPG), food and beverage, chemical and other process industries, in which products are made by mixing ingredients and executing processes until the product reaches its final formulation and state. (In contrast, the materials or components in the products of discrete manufacturing are subject to production steps but do not change states.) Agromillora's production is more closely aligned with pro- cess manufacturing because it generates plants by mixing "ingredients" – in this case, plant cells and tissue cultures, growth media, soil, water and more – and executing processes on batches of plants. However, most process industries employ ingredients that are inorganic or organic but not alive, and they use processes (like curing, baking, pressurizing, pasteurizing, chemically catalyzing or reacting) that bear little resemblance to the agricultural processes involved in growing plants.
To digitally orchestrate its plant production, Agromillora tailored Opcenter Execution Process with nursery-specific functionality. Cortijo reports that implementation in the first facility was iterative as the company tai- lored MES functionality to its products and processes.
Agromillora is continuing its MES implementation through a very deliberate, methodical rollout of Opcenter Execution Process, beginning with its largest facility (in Barcelona) and continuing with its subsidiaries only after the initial system was fully implemented. Cortijo identifies change management as a significant challenge during implementation at each facility. "In the end, it's quite a transformation in the way that people are working. A lot of our people are not used to working with technology," he notes. Additionally, many Agromillora facilities are located in rural areas, where infrastructure to support digitalization efforts cannot be taken for granted. Because of these change management issues, Cortijo emphasizes, "We need to be very close to the implementation."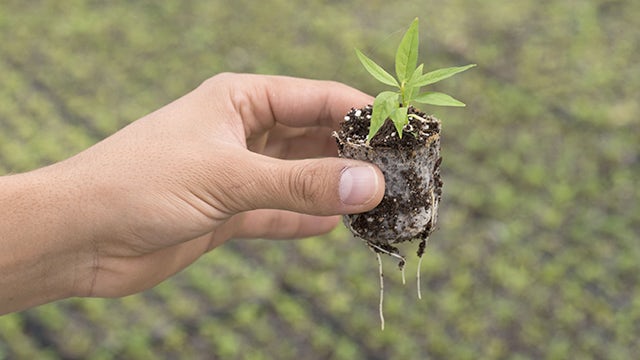 Of course, staying close to the implementation was especially challenging during the pandemic. "It was a special effort for ourselves and the Oasys team," Graells reports. "We actually went to Oregon to better understand their process, but then COVID appeared one or two weeks before we were going there again to deploy the system." She says that they were able to resume implementation after a short break. "We could do all the projects we planned for the year, and we did it remotely. It was difficult, but it's doable. I think it's an achievement for Oasys and ourselves."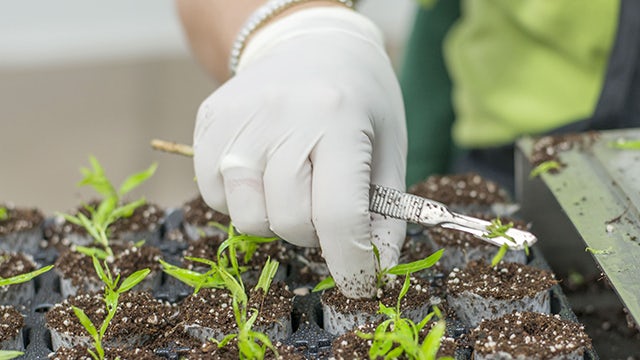 To achieve its first objective and ensure accurate tracking and tracing of its trees, the company decided to first implement Opcenter Execution Process in its laboratories, where the species and variety of plant is most difficult to distinguish manually. At every step of production, the plants are identified to the MES via scans. "Everything, every task that is done with the plants, is done with the system," Cortijo says. "If the plant is not what the system says it should be, then the system alerts you." Once each task is completed, a new barcode is generated and scanned into the system.
The second objective, tracking the performance of the different employees as they work with the plants, has also been achieved with Opcenter Execution Process. The system logs not only the tasks performed on each batch of plants but also the time needed for each task. This information enables Agromillora to assess worker performance and to determine training and assignments. "If some workers produce three plants from one task, but other workers produce four plants, we identify someone who needs training to improve the way they do their tasks, or maybe to better understand the plant variety, or even to know how many times the plant can be cloned," Cortijo says. He adds that the skills required for different tasks vary, and Opcenter is helping them define these skills and identify which workers excel with each task.
Benefits
Agromillora employees have reported improved efficiency and quality in their work as Opcenter Execution Process has been implemented. Cortijo explains one reason for these improvements: "The system makes you think about everything you're going to do: assigning the rootstocks you want to use, the batch of stock you're going to use, the people who are going to work in the lab. It makes you think about all these things in advance."
Opcenter has also helped eliminate some of the manual counting tasks, an important benefit when one considers the 100 million plants to be counted throughout their growth cycles. "We go to the system now," Cortijo says. "We read what the system says, and the people that do the physical inventory just check the report."
Agromillora has specified key performance indicators (KPIs) that Opcenter monitors. One is plant mortality. "If we see that a plant is dead, the system allows us to identify any area of a greenhouse that has a problem with any kind of bacteria," Cortijo says. "We don't have to wait until it's something very visible or until we have sent it to the customer. In the system, we know exactly which other plants could also be affected by the same problem. We can explore the data, retrieve and act, and minimize the different problems that we have."
Other KPIs Opcenter monitors include the performance of "parent" plants (how many "child" plants are produced from the parent) and the number of times a plant is cloned (this number is specified depending on the variety, and the system confirms that the plants do not exceed the maximum number).
Real-time monitoring of KPIs has assisted Agromillora in assuring quality processing, and now the company is using collected data to implement operational improvements. "Once we think something is going very well, we will explore the KPIs to better understand and feed back to operations protocols," Cortijo says. "This will allow us to improve work tasks and to better know how well the plants are growing."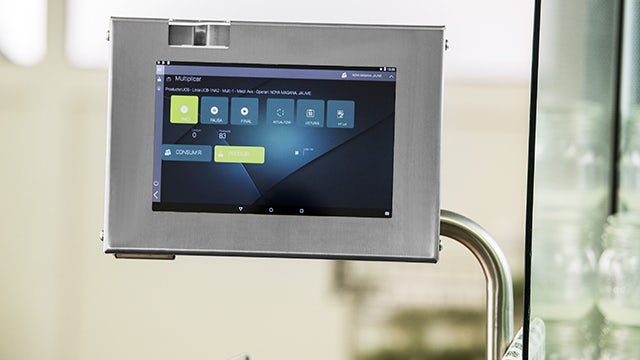 A growing digitalization
Once Opcenter Execution Process was implemented at the nine laboratories, Agromillora is beginning the second phase of the MES rollout at its greenhouses. Here a factor that becomes prominent is growing time. "At the beginning, these little plants need 100 percent humidity and very high temperatures," Cortijo explains. "As the plants grow, they require less humidity and temperature." He notes that Opcenter MES will orchestrate movement of the plants through the different greenhouses and required conditions. It will also help Agromillora as the company sows the small plants from which the trees grow and sorts them by size.
Ultimately, Agromillora will use Opcenter to support all its production processes, from each plant's beginnings in the lab through to its delivery to the customer. The company also will integrate Opcenter with its enterprise resource planning (ERP) system and a business intelligence system to deliver insights and comparisons of each of its susbsidiaries. The integration will enable Agromillora to have the ERP automatically communicate data from orders and other business departments to Opcenter, and to more easily track production costs.
The teams at Agromillora and Oasys are pleased with the results of their Opcenter implementation thus far and anticipate an ongoing partnership with Siemens. "We thought that Opcenter was the right solution for us; we selected the Siemens solution, but also Siemens as a partner for us," Cortijo says.