Case Study
Reducing development time with NX, Simcenter and Teamcenter
ADG Mobility streamlines development of armored military vehicles with Siemens solutions
ADG Mobility
ADG Mobility is an engineering company specializing in the development of high mobility protected military vehicles and associated systems.
http://www.adgm.co.za
Headquarters:

Pretoria, South Africa

Products:

NX, Simcenter Products, Teamcenter

Industry Sector:

Aerospace & defense
Leaders in protected mobility
ADG Mobility (ADGM) was established in 2017 by the founding members, senior management, and engineers of LMT (established in 1999) to focus primarily on design, development, and production of protected military vehicles, subsystems, and components.
ADGM's primary market is clients who require top-level protected mobility solutions, including upgrades and maintenance, repair and overhaul (MRO).
The company's world-class armored vehicle design and development team is supported by state-of-the-art software and systems and a fully equipped, modern workshop staffed by highly skilled artisans.
ADGM's senior members have more than 30 years of experience and knowledge in design, development, production, and field support of battle-proven 4x4, 6x6, and 8x8 military armored vehicles. The company has successfully completed more than 1,300 projects spanning five continents. ADG Mobility's entrepreneurial culture is fueled by innovation with quick turnaround times and professional service.
The engineering team at ADGM uses leading-edge, integrated software solutions from Siemens to develop its armored vehicles. These include Teamcenter® software for product lifecycle management (PLM), NX™ software for computer-aided design (CAD), and Simcenter™ software for computer-aided engineering (CAE) simulation. The software is part of the Siemens Xcelerator business platform of software, hardware and services.
"The Siemens suite of products was chosen because of its integration of multiple disciplines like CAD, CAE and PLM, as well as the fact that almost all our engineers were already well versed in the software," says Nian Fuls, senior engineer and systems administrator at ADGM.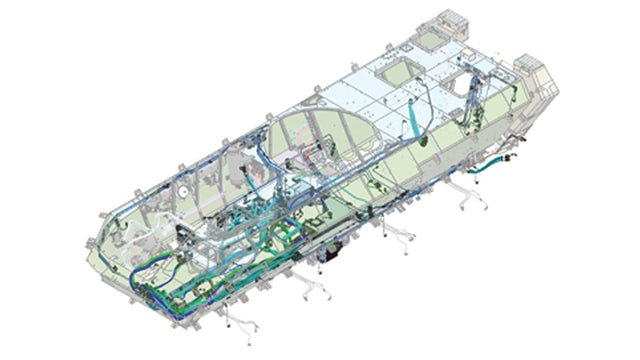 High-performance CAD
NX is the standard CAD solution for two dozen engineers at ADGM, augmented by Teamcenter for data management, collaboration and PLM. In addition to high-performance component and assembly design tools, NX also offers the NX Open application programming interface (API), which ADGM has used to develop custom commands and dialog boxes that help the company standardize and streamline design rules and methods. Teamcenter automatically creates and updates visualization models from NX in the lightweight JT™ format, non-engineering stakeholders to open 3D assembly models to gain insight into evolving designs.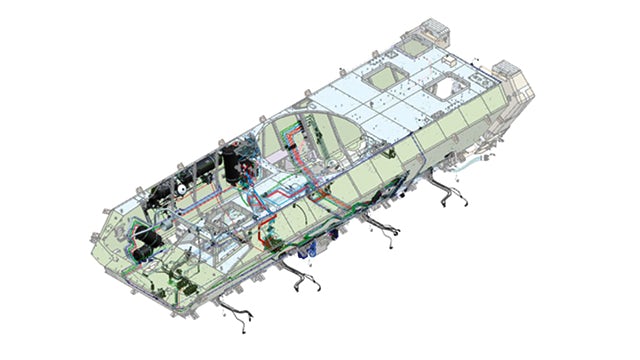 Streamlining routed systems design
In the past, ADGM design engineers modeled systems of pipes and hoses in vehicles using standard NX modeling features. The approach was time-consuming and tedious and design changes were difficult and often required complete remodeling of the routed systems. Seeking a more streamlined workflow, ADGM acquired a trial license of NX Routing Piping and Tubing, a special-purpose 3D application for creating, modifying, validating and documenting piping and tubing systems.
Engineers quickly adopted streamlined design workflows that leverage intelligent path creation, specification-driven part selection and placement, interference detection and knowledge rules that validate designs against industry standards. A flexible hose feature in the software accurately represented design possibilities. ADGM designers could order and fit hoses and generate bend reports for steel pipes directly from the 3D model. The overall results from the use of the piping and tubing application helped decrease development and production time, and NX Routing Piping and Tubing is now a must-have application at ADGM.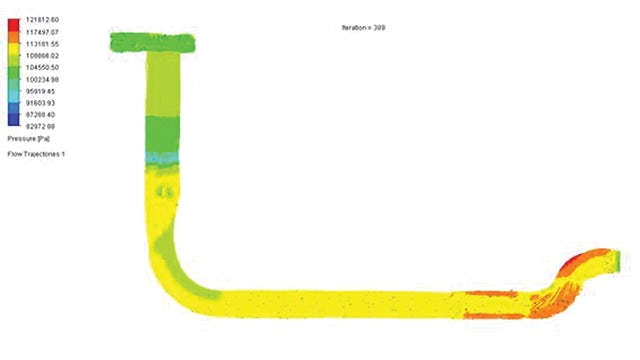 Improving performance with simulation
ADGM makes extensive use of Siemens simulation tools for assessing motion, structural and fluid flow performance of its designs. Simcenter™ 3D software applications used at AGDM include Simcenter™ 3D Motion for kinematics and dynamics, Simcenter™ Nastran® for finite element analysis (FEA) and Simcenter™ FLOEFD™ for computational fluid dynamics. In the past, the company had used third-party solutions that required export of model data to the analysis software and manual updates of designs based on the simulation results.
Because the Simcenter simulation tools are fully integrated with the NX design environment and associative with the CAD model, ADGM can now eliminate data export and transfer steps to accelerate design-analysis iterations and directly feed back analysis results into the design process.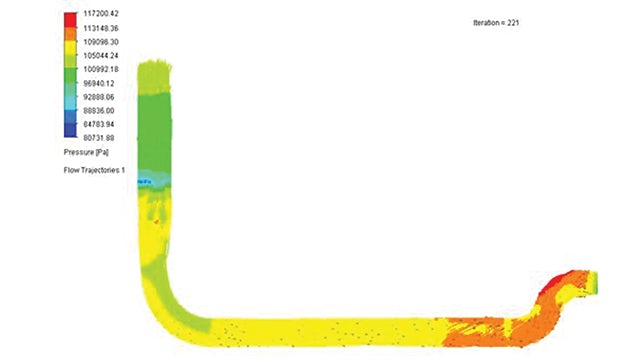 Motion simulation guides design
With Simcenter 3D Motion software, ADGM engineers use direct feedback from kinematic and dynamic motion simulation as an integral tool for mechanism designs. Full integration with NX and Teamcenter enables fast design-analysis iterations. "With Simcenter 3D Motion, we are able to tackle complex problems that previously would have required external support, such as steering and suspension systems," says Jean Labuschagne, a design engineer at ADGM. "By modeling these with motion we were able to verify compliance with specifications prior to testing, establish a baseline for testing, and compare against testing for verification."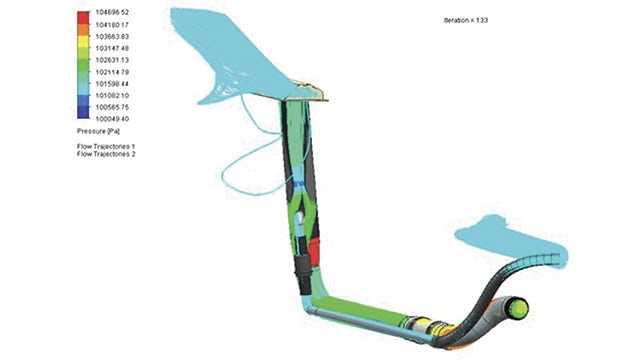 FEA reduces development time, testing and cost
In one project, ADGM was contracted to design and manufacture a set of control arms for an 8x8 military vehicle. The design required the component to withstand several load cases defined by the customer. AGDM used NX and Simcenter Nastran finite element analysis software to create a geometric model, idealize material properties and apply constraints and loads for the simulation. Through iterative analyses the design was improved to meet the load requirements.
Results of the simulations gave ADGM insights into the behavior of the structure and helped define the manufacturing strategy. "The initial analysis iteration quickly led to a fuller understanding of the component and allowed for a more rational design," says Vincent Wehmeyer, a simulation engineer at AGDM. "FEA reduced development time, as physical test iterations were not required. FEA was also a client requirement and thus the application served to fulfil contractual requirements. We could easily present visual results of the analysis to the client to communicate our confidence in the design. The final designs from the FEM analysis were validated with experimental results."
Refining designs with CFD
In a recent project, ADGM was contracted to design heating, ventilation and air conditioning (HVAC), induction and exhaust systems within a defined space to meet detailed customer specifications. ADGM engineers used NX and Simcenter FLOEFD to develop the three subsystems, simulating flows to validate and confirm that the subsystems functioned within the design parameters, which included pressure drops for the induction system, flow separation for the HVAC system, and backpressure for the exhaust system.
For the exhaust system, ADGM engineers sought to reduce backpressure in the engine as much as possible to increase fuel economy and service life. The initial simulation of the entire exhaust system and exhaust outlet with Simcenter FLOEFD predicted a total back pressure of 9.75 kilopascals (kPa); the back pressure stated by the engine supplier was 10 kPa. A second simulation was conducted with the outlet cover removed to investigate whether an exhaust bend after the turbocharger was causing the high pressure. The results of the second simulation indicated that the back pressure was caused by the sharp bend in the exhaust instead of the outlet cover.
"The exhaust pipe was modified, and the simulation was repeated," says J.T. Pienaar, a mechanical design engineer at ADGM. "The result was a reduction of 316 percent in back pressure, to 3.08 kPa. Simcenter FLOEFD drastically reduced the time and cost to test a design before it was manufactured."
Managing data and processes
As ADGM's engineering teams and projects have grown in size and complexity, Teamcenter has become an essential tool for managing product data and development processes. With manually managed procedures, designers frequently overwrote each other's files on the company's servers. With Teamcenter the company can better manage configurations, design changes and sign-off procedures and more strictly enforce standardized methods and file naming conventions. Teamcenter also provides essential project-based security for ADGM's defense clients.
"Since utilizing Teamcenter workflows to drive our design sign-off and release, we considerably reduced the amount of missing supporting data like PDFs and DXFs," says Fuls. "That also reduced the number of requests for additional data from suppliers and ultimately reduced time from design to hardware."