Case Study
Academic race car manufacturer designs record-breaking race cars from scratch within a few months
AMZ uses NX and Simcenter software to optimize race car designs and maintain leadership in Formula Student competitions.
Academic Motorsports Club Zurich
Founded in 2006 by students of ETH Zurich technical university, the Academic Motorsports Club Zurich (AMZ) is a nonprofit organization designing and building a new race car every year with which it competes in the Formula Student series. After building a number of cars with internal combustion engines, the AMZ moved to develop electric race cars in 2010. The club is financially independent and supported by numerous financial, manufacturing and parts sponsors as well as institutes of various Swiss universities.
http://www.amzracing.ch
Headquarters:

Zurich, Switzerland

Products:

NX, Simcenter 3D Software, Simcenter Nastran, Simcenter STAR-CCM+

Industry Sector:

Automotive & transportation
Automotive engineering competition
While Formula 1® races attract large crowds and huge worldwide television audiences, Formula Student is a less well known category. Founded by the Society of Automotive Engineers in 1981, Formula Student is the world's biggest competition for engineers. More than 600 university teams from all over the world compete in 18 races with cars they have designed and built from scratch.
Unlike popular car races, the winner is not necessarily the car and driver coming in first after a set number of laps. In addition to dynamic contests including an acceleration race and skid pad cornering as well as an autocross qualifying race and finally a 22-kilometer endurance race, the engineers have to present their car and its development process in static events, where a jury of celebrities from the economy, the automotive industry and professional racing judges the design, the underlying business plan and the financial planning including manufacturing.
Founded in 2006 by students of ETH Zurich technical university, the Academic Motorsports Club Zurich (AMZ) was the first Swiss team in Formula Student and takes part in competitions all over Europe every year. When a separate class for electric vehicles was introduced in 2010, AMZ moved to developing only electric race cars in order to prepare prospective young engineers for future technologies such as electric drive trains. From 2013 to 2016, the team won eight out of 16 competitions and in June 2016, their race car called "grimsel" set a world record, accelerating from 0 to 100 kilometers per hour in 1.513 seconds. By comparison, the fastest accelerating production car takes 2.2 seconds.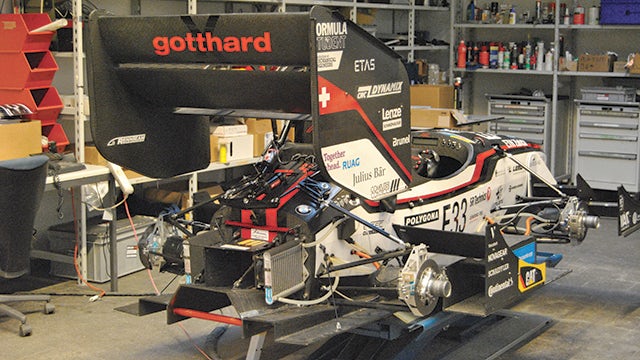 High fluctuation as an engineering challenge
The club offers students the opportunity to put their acquired theoretical knowledge into practice with highly complex engineering in an open, companionable environment. During this process they gather experience in the fields of leadership, innovation and quality management, cost analysis, project and product documentation and risk control. They design hundreds of parts for each of the cars. "This even includes the tires and the motors themselves," says Leiv Andresen, CEO of AMZ. "Off-the-shelf motors are always a compromise, made to cater to various requirements. We design our motors to optimally fit the specific needs of our car. This also allows us to reach maximum power density: each one of our four motors delivers more than 50 horsepower while weighing just under three kilograms." While partners manufacture most of the parts, the AMZ team produces central components such as the carbon composite monocoque chassis in two locations provided by the ETH Zurich Institute of Virtual Manufacturing. There, they also assemble the race cars, which are then tested on various Swiss air fields.
The AMZ team consists of 35 active members designing the race car for the upcoming Formula Student season. These students from the Swiss universities ETH Zurich and UAS Lucerne join in September with the aim of publicly presenting the ready-to-race car by the end of May and of course winning four competitions in July and August. Although veterans from previous teams assist them providing knowledge and experience, tackling a task as complex as designing an entire car with an all-new team in this short period poses a unique engineering challenge.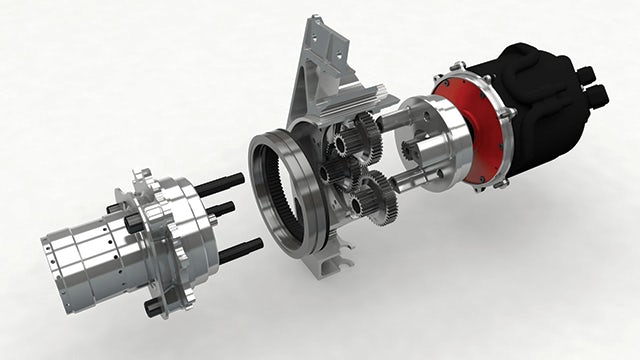 Seamlessly integrated design and simulation software
For design and verification work as well as technical documentation, AMZ members have for many years been using various software products from product lifecycle management (PLM) specialist Siemens Digital Industries Software. "NX is the most central tool for our design work," says Andresen. "We benefit from the deep integration of all Siemens Digital Industries software solutions with NX. We can start Simcenter 3D software within the NX environment. As we do not need to get acquainted with different user interfaces, this saves a lot of time and error."
The use of NX™, a comprehensive engineering software package from Siemens Digital Industries Software, is not limited to computer-aided design (CAD). As the lightweight, high-powered cars are constantly challenging the frontiers of physics, design verification at all stages of the vehicles' development is vitally important. "We find it particularly helpful to be able to verify designs at all stages along the development process using Siemens' Simcenter 3D software," Andresen elaborates. "We utilize the Simcenter 3D Motion software for multibody simulation and perform structural analysis with Simcenter™ Nastran® as well as flow simulations using STAR-CCM+ software." This software is used to optimize the aerodynamics package of the car. STAR-CCM+ has the capability to simulate flows, and also allows users to export pressure distributions. The results of the simulations are re-imported to NX, providing all those involved in this engineering effort with up-to-date information about the structural loading of the components, which in turn is used to optimize geometries.